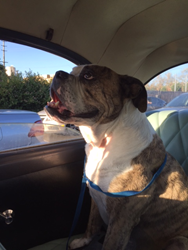 At 7 years old, Knuckles has basically turned back into a puppy
San Diego, CA (PRWEB) September 22, 2016
In August 2013, Knuckles had surgery at a different hospital to repair a torn cruciate ligament and to stabilize a luxating patella. Unfortunately, about eight weeks after surgery, right around the time he was supposed to be able to start taking short walks again, he stopped bearing any weight on his leg. After weeks of x-rays and rechecks, it was discovered that he had developed Methicillin-Resistant Staphylococcus Intermedius (MRSI) in his knee joint. In December 2013, he had a second surgery to remove the hardware from the first surgery and to flush the infection from his knee. He was on a long course of very harsh antibiotics to clear his MRSI. Hydro-therapy using a water treadmill was started to help him gain back some of the muscle and range of motion he had lost. Over the next two years, his condition continued to worsen, he lost over two inches of thigh muscle to atrophy as a result of avoiding using his leg. After two surgeries and thousands of dollars, Knuckles seemed worse off than before any treatment. He was taking large amounts of anti-inflammatories, pain medicine, supplements, and also receiving joint injections. Even with all of this, he was clearly in a large amount of pain. He avoided walking, and generally just laid around the house. "I thought that we had tried everything, and that the rest of his life would be spent as an 'old man with a bad knee'," said Knuckles owner Sarah. Sarah and Knuckles were referred to Dr Holly Mullen at VCA Emergency Animal Hospital & Referral Center to see if she could help. Dr Mullen explained that the MRSI had caused such damage to Knuckles' knee that it was now bone rubbing on bone-no normal cartilage remained. "She told us we could continue using medication to try to keep him comfortable, but that would not reverse the damage that had been done. His pain level was likely to continue to increase until, at some point, we would probably have to amputate" explained Sarah. "Then she told me about VetStem Cell Therapy along with PRP (platelet rich plasma) treatment. Although she could not predict the specific level of results, it was a real chance for him to get back some of what he had lost! We decided to go for it."
In August of 2015, Dr Mullen began with a fatty tissue collection from Knuckles' abdomen, then the tissue sample was sent overnight to VetStem's lab in California for processing. Once processed the stem cells were quality checked, with an additional sterility test being done by VetStem to make sure there was no evidence of MRSI in the cells. Dr Mullen also had a culture done on fluid taken from the affected joint, to make sure there was no evidence of MRSI.
About a month later, after both tests came back negative, the injectable doses of Knuckles' stem cells were delivered to Dr Mullen at VCA Emergency Animal Hospital & Referral Center. Dr Mullen injected stem cells and PRP into Knuckles' knee to begin the healing process. "At 7 years old, Knuckles has basically turned back into a puppy." Sarah said "Thirty days after his treatment, he was able to stop taking any medications at all! He now bears full weight on his leg, and he has gained back almost all of the muscle." Knuckles is once again able to play with his sister and his best friend, climb up in the bed for snuggles, and do his favorite thing-chase bubbles. Sarah says he is so much happier now that the pain is gone. "I actually had no idea how much he was hurting until he was feeling better. One person who had only known him with his 'bad leg' actually commented that his eyes shine brighter since the treatment" exclaimed Sarah. One of Sarah's close friends who had known Knuckles throughout the entire ordeal cried tears of happiness to see him back to his old self. "I cannot thank Dr. Mullen and VetStem enough for the gift they have given us. I did not ever think that my big, sweet boy would ever feel this well again! Thank you so much, VetStem!"
Stem cells are regenerative cells that can differentiate into many tissue types as well as being able to reduce pain and inflammation thus helping to restore range of motion and stimulate regeneration of tendon, ligament and joint tissues (http://www.vet-stem.com/science.php). In a study using VetStem Regenerative Cell Therapy on dogs with osteoarthritis of the hip joint it was found that regenerative cell therapy (adipose-derived stem cells) decreases patient discomfort and increases patient functional ability. Platelet therapy promotes healing when the body requires help to kick start its natural internal repair processes. Platelets contain a variety of growth factors that, once released, attract progenitor cells, enhance wound healing and stimulate tissue pair. Since the animal is the donor and recipient of the therapy (autologous therapy), the safety profile is very favorable.
Stem cell and platelet therapies are very different regenerative medicine solutions that can work synergistically. They each have their place, and can benefit patients in different circumstances. VetStem believes that adipose stem cell therapy is the gold standard for regenerative medicine, with platelet therapy as a great synergistic add-on.
VetStem checked back in with Sarah and Knuckles this month and this is what Sarah had to say, "Thank you for checking in! We just had our one year anniversary of his treatment, and he is still doing great! Actually, about a month ago, we moved from a tiny apartment to a big house out in the country with almost 2 acres and even wild turkeys for chasing. Knuckles would never have been able to enjoy our new home as much without the treatment. We are so grateful! His grandma came to visit earlier this summer, and she had not seen him since before the treatment. She was blown away. I do think that at some point, he will need a follow up injection, but we are not nearly there yet."
About Dr Holly Mullen
Dr Holly S. Mullen received her DVM degree from Virginia-Maryland Regional College of Veterinary Medicine in 1985. In 1990, she became a board certified veterinary surgeon (DACVS) and was appointed senior staff surgeon at AMC where she was also selected as the 1990 Teacher of the Year. Dr Mullen joined VCA Emergency Animal Hospital & Referral Center in 1995. She has authored numerous scientific articles and professional book chapters. She lectures extensively at national and international seminars and meetings. She has been certified in VetStem Cell Therapy since 2007 and performed over 30 cases.
About VCA Emergency Animal Hospital & Referral Center
VCA Emergency Animal Hospital and Referral Center in San Diego utilizes the latest in state of the art equipment and technologies and has consistently earned the top rating from the American Animal Hospital Association. We have been working closely with referring primary care veterinarians for the health of pets since 1972. The hospital offers a comprehensive team of professionals with specialized expertise that complements the quality care provided by primary care veterinarians. Our doctors, board-certified veterinary specialists, and emergency and critical care veterinarians work in a sophisticated environment with the most advanced veterinary medical equipment and techniques. http://www.vcaspecialtyvets.com/emergency
About VetStem Biopharma
VetStem Biopharma is a veterinarian lead company that was formed in 2002 to bring regenerative medicine to the profession. This privately held biopharmaceutical enterprise, based near San Diego (California), currently offers veterinarians an autologous stem cell processing service (from patients' own fat tissue) among other regenerative modalities. With a unique expertise acquired over the past 14 years and 12,000 patients treated by veterinarians for joint, tendon or ligament issues, VetStem has made regenerative medicine applications a therapeutic reality beyond the realm of research. The VetStem team is focused on developing new clinically practical and affordable veterinary solutions that leverage the natural restorative abilities present in all living creatures. The company's stated mission being "to extend and enhance the lives of animals by improving the quality of recovery in acute conditions, but also by unlocking ways to slow, stop and ultimately revert the course of chronic diseases". In addition to its' own portfolio of patents, Vet-Stem holds exclusive global veterinary licenses to a portfolio of over 55 issued patents in the field of regenerative medicine.