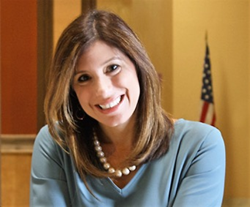 I'm excited and honored to be named to the Board of an organization that is as passionate as I am about strengthening and improving organizations across all sectors.
CLAREMONT, Calif. (PRWEB) September 20, 2016
The Drucker Institute at Claremont Graduate University announced today that Theresa Reno-Weber, Chief of Performance & Technology for the Louisville Metro Government, has joined its Board of Advisors.
"We are fortunate to have a robust Board of Advisors populated by tremendous leaders. Today, we add a new one to our ranks, one who shares our deep passion for our mission: strengthening organizations to strengthen society," said Curt Pullen, Chairman.
"I'm excited and honored to be named to the Board of Advisors for the Drucker Institute, an organization that is as passionate as I am about strengthening and improving organizations across all sectors," said Ms. Reno-Weber. "The Institute's work to share 'timeless wisdom, tailored for today' and the 'tools to do the right things well—and stop doing everything else' is so needed in today's organizations, be they in the public, private or social sector."
In her leadership position in Louisville Metro, Ms. Reno-Weber coordinates the people, processes and technology required to improve the way government works. She helped launch, and continues to manage, Louisville's internationally-recognized OPI Team and LouieStat program. She has spoken in the U.S. and abroad on performance management, data-driven decision making and culture change, and she co-authored a chapter in the book Beyond Transparency. In 2015, Government Technology named Ms. Reno-Weber one of the Top 25 Doers, Dreamers & Drivers.
A graduate of the United States Coast Guard Academy and former Lieutenant in the U.S. Coast Guard, Ms. Reno-Weber earned a Master's in Public Policy from Harvard's Kennedy School of Government and previously worked as a consultant with McKinsey & Company. She is a current Moneyball for Government Fellow, is part of the inaugural cohorts in Living Cities' City Accelerator and Bloomberg Philanthropies' What Works Cities, and serves on the Board of Directors for the Girl Scouts of Kentuckiana and the International Association of Internal Management Consultants (AIMC). In January 2017, Ms. Reno-Weber will become the President and CEO of Metro United Way, which serves communities in seven counties across Kentucky and Indiana. 
"Theresa is working to create a wealth of new knowledge about how to answer Peter Drucker's call for effective government in the knowledge age," said Zach First, the Drucker Institute's executive director. "She shares our commitment to working across sectors. And she is that rare powerhouse who is also a delight to be around. My team and I are thrilled to welcome her on board."
About the Drucker Institute
The Drucker Institute is a social enterprise based at Claremont Graduate University.
Our mission is strengthening organizations to strengthen society. Our programming—for the corporate, nonprofit and public sectors—is built on a foundation of YESTERDAY/TODAY/MONDAY* "Yesterday" refers to the fact that our work is grounded in Peter Drucker's timeless wisdom. "Today" speaks to the urgency that we know organizational leaders feel to successfully meet their greatest challenges and opportunities. And "Monday" points to our proven ability to help executives move quickly from ideas to action to results, just as Drucker urged his own consulting clients: "Don't tell me you had a wonderful meeting with me. Tell me what you're going to do on Monday that's different."
For more, visit http://www.druckerinstitute.com.
About Claremont Graduate University
Founded in 1925, Claremont Graduate University is the graduate university of the Claremont Colleges. Our five academic schools conduct leading-edge research and award masters and doctoral degrees in 24 disciplines. Because the world's problems are not simple nor easily defined, diverse faculty and students research and study across the traditional discipline boundaries to create new and practical solutions for the major problems facing the world. A Southern California based graduate school devoted entirely to graduate research and study, CGU boasts a low student-to-faculty ratio.