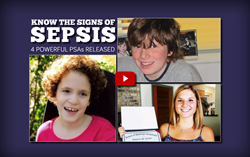 "Had we known the signs, our Rory would be alive today," stated Orlaith Staunton, Rory's mother.
New York, NY (PRWEB) September 21, 2016
The Rory Staunton Foundation for Sepsis Prevention (http://www.RoryStauntonFoundationForSepsis.org) today announced the launch of four Public Service Announcements (PSAs), produced in partnership with the Feinstein Institute for Medical Research. The first in the series, launched on Tuesday, had garnered more than 26,000 views on Facebook alone within the first few hours of being posted. The series of four PSAs aims to bring global attention to the signs of sepsis, which kills over 250,000 Americans every year and costs our healthcare system $24 billion annually.
After hosting a remarkable Third National Forum on Sepsis on Sept. 12th in New York City, the Foundation continues to mobilize a national task force to protect Americans from the devastating, irreversible and unnecessary ravages of sepsis. Knowing the signs of sepsis saves lives. Caught in time, IV fluids and broad spectrum antibiotics provide a cure.
"Had we known the signs, our Rory would be alive today," stated Orlaith Staunton, Rory's mother. "Our work over the past few years has proven extremely successful in raising awareness and improving sepsis care in this country."
In 2013, the Rory Staunton Foundation orchestrated the adoption of mandatory sepsis protocols – called Rory's Regulations – in New York State. Last month these protocols were also implemented in Illinois, where they are known as Gabby's Law in honor of Gabriella Galbo who needlessly lost her life to sepsis at just five years of age. "We will not rest until medical institutions in every state mandate the same protocols," continued Staunton. "We will continue to take every measure to protect the American people. It is what Rory would have wanted."
The Public Service Announcements will air nationally across many forums.
View the PSAs on The Rory Staunton Foundation website
View and share the PSAs on the Rory Staunton Foundation Facebook page