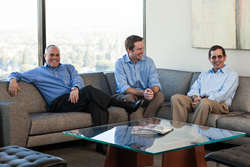 HUNTINGTON BEACH, Calif. (PRWEB) September 22, 2016
There really was a kitchen table, money pulled from an IRA, and a man with a vision. It was, back in September 1996, the very definition of a seat-of-the-pants startup.
Twenty years later, Ocean Media (http://www.oceanmediainc.com) has placed billions of dollars in media on behalf of its clients, and the agency ranks as the largest independent media buying firm on the West Coast -- and one of the largest independents in the country.
Funded and founded by current Chairman and CEO Mike Robertson—literally at his kitchen table, in Huntington Beach, where the agency is still based—Ocean Media has experienced consistent growth. Behind the numbers and the milestones is the story of what's behind that growth: a distinctive culture that can be summed up as total independence fueling total transparency and total accountability.
Among Robertson's early hires was Ron Luebbert (1997), now COO; Jay Langan (2002), now President; and Stephanie Holman (1996), the VP of Finance, the agency's very first employee.
The same applies to clients. The Ocean Media story is about retention, the most important way advertisers express their loyalty. None has been more a part of Ocean's origins, expansion, and present day success than Priceline.com, through a relationship that dates back to 1997 when Robertson and Priceline.com founder Jay Walker first met. Brett Keller, now CEO of Priceline.com, worked with Ocean on the 1998 Priceline.com launch as well.
eHarmony.com began working with Ocean in 2001, and Overstock.com signed on in 2003. This, in an industry where agency-client engagements typically last about two years.
"Nothing makes me prouder than the success of our clients over the years," Robertson said. "It is very satisfying to help launch a brand and watch the company take off. Those success stories are key elements to the growth at Ocean Media. The partnerships are everything and those relationships mean the world to us."
In that spirit, Ocean's relationships with its employees have been just as meaningful. The agency provides a host of benefits both inside and outside of the office, including an on-site gym, daily lunches, and season tickets. "Because of our independence, we're able to do what's right for our clients and employees, without asking permission from a holding company," Robertson said. "And because we're never satisfied with the status quo, we embody an entrepreneurial spirit that fuels innovative solutions in a marketing landscape that is constantly evolving. If we weren't independent, that simply wouldn't be possible."
In 1996, Ocean was largely focused on radio and television advertising for its clients. The agency quickly applied that same rigor and methodology to expand its digital offering. This combination of TV, radio, print, out-of-home, and digital media buying services has enabled Ocean to maintain a media-agnostic outlook for its clients.
The agency's annual billings now approach $500 million, supporting such mainstay e-commerce brands as Care.com, Realtor.com, Casper, eBates, eHarmony, Lifelock, Harrys, Overstock, Priceline, Zipcar, Fabletics and Just Fab, among others. "As more and more e-commerce brands have leveraged TV and digital advertising as a key driver of growth, we've earned a reputation as a pioneer in helping build brands in that space," Langan said.
In a bid to capitalize on talent in the New York market, service a growing number of east coast clients, and provide another area of contact for media relationships, the agency opened an office at 515 Madison Avenue in 2014. The agency recently added square footage to its Manhattan operation and to its Huntington Beach headquarters to accommodate its continued growth and increase in head count.
If culture defines Ocean Media, its focus on analytics drives its day-to-day work for its clients. By leveraging tracking and analytical data, the agency funnels budgets toward the most effective media channels and optimizes the ad spend on a continuous basis. "We're committed to achieving client goals by maximizing media performance through analytics, bringing greater accountability to advertising," Langan noted.
"Our proprietary use of analytics to show clients the return they get on their advertising dollars continues to set us apart from other agencies," said Annmarie Turpin, SVP Client Analytics. "The consistent application of our analytics—and the extension of that emphasis on metrics to such emerging areas as mobile and programmatic video buying—demonstrates consistently that we make ad budgets more accountable, whatever the medium. We make it a point to stay current with media consumption habits of the consumers we're targeting. That in turn fuels our approach to analytics, the backbone of our success—and that of our clients."
Ocean's 20 years of media buying experience, backed by its track record in building brands, continues to make it an attractive partner for companies looking to scale their businesses and optimize their advertising campaigns. Said Luebbert, "we value and nurture collaborative partnerships, understanding that for us to achieve success, our partners must be successful."
"I have worked with Ocean for many years and have had a front row seat to the growth of the agency," said Ben Price, President of Ad Sales, Discovery Communications. "Today Ocean Media is one of our largest agency relationships on the West Coast and plays an important role in our national business. The agency continues to attract more and more new clients with its analytics work, and it seems to have a pretty strong track record."
"Since inception, we have cultivated a culture that focuses on individual and team accomplishments," Mike Robertson said. "Work is important, and so is balance. We care about our employees' well-being and happiness inside and outside the workplace. We believe that's a very big part of our story."
About OceanMedia
Ocean Media (oceanmediainc.com) is a leading independent media planning and buying agency, founded in 1996 and based in Huntington Beach, Calif. Ocean's approach adheres to the philosophy that return on investment (ROI) should be at the forefront of every advertising campaign. The agency is recognized for media efficiency and innovative analytics work. That combination has helped launch and scale many of its clients. Ocean Media is the agency of record for eHarmony, Priceline, Overstock.com, Lifelock, Care.com, JustFab.com and Realtor.com, among others.