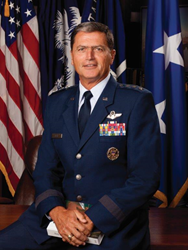 President Rosa exemplifies the finest qualities of leadership – inspiring with vision and encouraging innovation.
Charleston, South Carolina (PRWEB) September 22, 2016
Citadel President Lt. Gen. John W. Rosa has been selected to receive the Chief Executive Leadership Award from the Council for Advancement and Support of Education(CASE) District III, which represents nine Southeastern states.
The award will be presented during the CASE District III Conference on Feb. 7 in Nashville, Tennessee.
Rosa received the award because of his keen focus on strategic initiatives that will enhance The Citadel's mission of developing principled leaders. A key emphasis for Rosa has been keeping a Citadel education relevant in the 21st century while holding to the values that make the college unique. Since Rosa's tenure as president began, The Citadel has increased the size of the South Carolina Corps of Cadets and completed a $100 million capital campaign -- two benchmarks of a vibrant institution.
"President Rosa exemplifies the finest qualities of leadership – inspiring with vision and encouraging innovation, leading the institution to higher levels of success, and supporting all aspects of institutional advancement – that CASE III is proud to recognize through its Chief Executive Leadership Award" said CASE III Board Chair, Kris Phillips. "He has led The Citadel with distinction for more than 10 years, challenging the entire campus community to address some difficult issues all while championing and building institutional morale and pride" continued Phillips.
Before returning to his alma mater in 2005, Rosa had a 32-year career in the Air Force and logged more than 3,600 flying hours as a command fighter pilot. Among his career highlights, he was stationed in Lossiemouth, Scotland, as an American exchange officer flying the Jaguar for the Royal Air Force. He has commanded at squadron, group and wing levels at air bases in South Korea, Idaho, South Carolina, New Mexico and Georgia. He served as inspector general for Pacific Air Forces at Hickam Air Force Base in Hawaii and commandant of The Air Command and Staff College at Maxwell Air Force Base in Alabama. As deputy director for operations for the Joint Chiefs of Staff in Washington, D.C., he was in charge of the National Military Command Center and served as the military spokesman for the Pentagon when U.S. troops were deployed to Afghanistan and Iraq in 2002. In July 2003, he was named superintendent of the U.S. Air Force Academy in Colorado Springs, Colo., and in September of that year, he was promoted to lieutenant general. He remained in that position until his retirement from active duty in November 2005.
Rosa is a member of the board of directors of The Citadel Foundation, Trident United Way, and Tri-County Cradle to Career Collaborative Board. He is an ex officio member of The Citadel School of Business Advisory Board and also serves as a member of the Economic Leadership Council of the Charleston Regional Development Alliance.
Established in 1999, this prestigious award recognizes the chief executive of a District III member institution for outstanding leadership and service in support of education. It is an opportunity for CASE to applaud and promote the creative and difficult work of our top educational executives. We invite nominations of chief executives whose contributions to their campuses and communities deserve exceptional recognition and celebration.
About The Citadel
The Citadel, with its iconic campus located in Charleston, South Carolina offers a classic military college education for young men and women focused on leadership excellence and academic distinction. Approximately 30 percent of the South Carolina Corps of Cadets commission as officers in every branch of U.S. military service upon graduating. Citadel alumni have served the nation, their state and their communities as principled leaders since the college was founded in 1842. The Citadel Graduate College offers more than 70 graduate degrees, graduate certificates, and evening undergraduate programs with many available online. The Citadel has been named Best Public College in the South for six consecutive years, #1 Best Public College in the South for Veterans, #3 Best College for Veterans in the South (public and private), and #1 Best College Value in the South by U.S. News and World Report, as well as the best value out of all South Carolina colleges and universities, by Forbes.