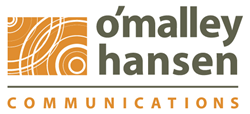 Chicago, IL (PRWEB) September 21, 2016
O'Malley Hansen Communications (OHC), a brand-building agency with core competencies in integrated traditional and digital communications to large stakeholder audiences, has acquired Alpaytac Public Relations, an award-winning agency with a strong heritage of great results and exceptional client service. The acquisition expands the agency's footprint by adding an office in Los Angeles and additional team members in Chicago and New York, while affiliating with agencies in more than 40 countries around the globe.
After leading Alpaytac for 12 years as its chief executive officer and president, founder Huma Gruaz will join OHC as a partner based in Los Angeles. Team members from across the country will join her, bringing expertise in integrated communications, digital marketing and social media to clients in multiple industries including housewares, consumer electronics, airlines, technology and travel. The Alpaytac team includes members with deep experience in online, print and broadcast journalism.
This acquisition creates an international footprint for OHC with access to offices in 32 countries and public relations and marketing support services in more than 40 countries. Alpaytac has been the U.S. lead agency for ECCO International Communications, one of the largest international PR networks, and OHC will continue the relationship.
"When we opened OHC 10 years ago, we set a goal to build a national presence and create the scope and scale to meet the needs of clients throughout the country," said Todd Hansen, principal, OHC. "The opportunity to incorporate Huma's leadership, reputation, her talented team and prestigious client roster into our existing agency opens the door to bring fresh thinking to our existing clients and seize new opportunities both nationally and internationally."
Gruaz is an internationally-recognized communications professional, and was named one of the industry's Top Women in PR in 2014 and 2015, Brand Marketer of the Year in 2010 by PR News and was honored with a lifetime achievement award from PR Daily in 2012.
"This is a competitive industry, and Huma created a powerful agency with a strong team of PR professionals to represent major national and international brands," said Kelly O'Malley, principal, OHC. "We are thrilled Huma chose to align with us because she has built a culture that perfectly matches ours."
Alpaytac has supported SharkNinja, maker of Shark and Ninja appliances since 2004, and has created successful marketing communications campaigns for consumer and business clients in a wide variety of industries. The firm has received more than 30 accolades during the past six years from top public relations industry publications, such as PRWeek, PR News, PR Daily and Bulldog Reporter, among others.
"Alpaytac has always focused on sustaining strong client relationships by bringing innovation and results that exceed clients' expectations," said Gruaz. "I consider Todd and Kelly to be two of the top PR experts in the country and am excited to bring their Fortune 500 brand backgrounds and expertise to our clients, while expanding our scope of services in areas such as employee communications and Hispanic Communications. I am looking forward to the greater opportunities our joined forces will collectively provide for all of our clients."
The acquisition closed in September.
About O'Malley Hansen Communications
O'Malley Hansen Communications infuses the high quality of big firm work with the focused client service and cutting-edge strategy that only a nimble, independently owned agency can offer. OHC's approach breaks through a noisy market with a deep understanding that brand equity and reputation is built by endorsement from a wide range of influencers who receive their information from a variety of sources. OHC has offices in Chicago, Los Angeles, New York and St. Louis. For more information, visit http://www.omalleyhansen.com.
Todd Hansen
312.377.0630
todd(dot)hansen(at)omalleyhansen(dot)com
Huma Gruaz
312.377.0630
huma(dot)gruaz(at)omalleyhansen(dot)com