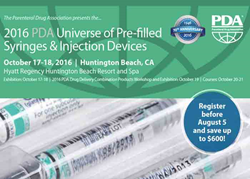 Our Container Closure Integrity group as well as with our newly dedicated unit for ISO 11608 testing provide the experience and expertise needed to support our clients in the qualification of these primary packaging systems and devices
New York, NY (PRWEB) September 26, 2016
Whitehouse Laboratories, a Division of Albany Molecular Research Inc., is excited to announce that it will be exhibiting at the Parenteral Drug Association's Universe of Pre-Filled Syringes and Injection Devices Conference held on October 17th and 18th in Huntington Beach, CA. The company will be located at Booth #404 in the exhibition hall.
Pre-filled syringes have become a preferred primary package for injectable pharmaceuticals, providing dosage control and minimizing waste. Typical glass vial configurations require 20-30% overfill in anticipation of potential product waste, and drug transfer into a syringe prior to administration introduces human factor risks. Injection devices and safety shield assemblies are becoming more widespread with the added benefit of end-user convenience and efficiency allowing for self-administration with minimal training, which ultimately encourages patient compliance. This conference will be devoted to current industry trends, innovations, and best practices in this specialized category of pharmaceutical delivery devices.
"Injection devices pose challenges when it comes to integrity evaluation, as formulation properties and device design will have an impact on compatible approaches" says Justine Young, Associate Director of Container Qualification and CCIT, at Whitehouse Laboratories. "Our Container Closure Integrity group as well as with our newly dedicated unit for ISO 11608 testing provide the experience and expertise needed to support our clients in the qualification of these primary packaging systems and devices." ISO 11608 is a seven-part document that details requirements and test methods for needle-based injection systems.
Whitehouse Laboratories will also participate in the accompanying Drug Delivery Combination Products Workshop held on October 19th, which aims to address key challenges and lessons learned in the development and manufacture of these products as well as Human Factors. The conference and workshop will act as platforms for attendees to discuss the regulatory landscape governing such package systems and share their experiences and considerations.
About Whitehouse Laboratories
The leader in testing, Whitehouse Labs, a division of Albany Molecular Research Inc., offers comprehensive analytical services providing support for manufacturing from development to market. From analytical chemistry and material qualification to packaging optimization, Whitehouse Laboratories is the testing partner for the world's leading Pharmaceutical, Biotechnology, Medical Device, Life Sciences and Consumer Products organizations.
About Parenteral Drug Association
The Parenteral Drug Association (PDA) is the leading global provider of science, technology and regulatory information and education for the pharmaceutical and biopharmaceutical community. Founded in 1946 as a nonprofit organization, PDA is committed to developing scientifically sound, practical technical information and resources to advance science and regulation through the expertise of its nearly 10,000 members worldwide.