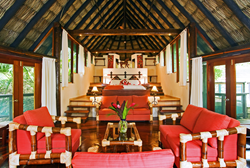 November is a great time to be in Belize
San Ignacio, Belize (PRWEB) September 27, 2016
With summer ending and the holiday season approaching, The Lodge at Chaa Creek is suggesting that travellers take advantage of a vacation that offers significant savings, outdoor activities and healthy dining to help prepare for the winter months and holiday indulgences, according to the Belizean eco-resort's marketing administrator.
Roberto Harrison said that Chaa Creek's "More Stay, Less Pay" three day all-inclusive Belize vacation package is also a perfect way to enjoy Thanksgiving, experience the colourful Garifuna Settlement Day, celebrate life events such as birthdays, anniversaries, first or second honeymoons, or "just do something special before settling into the those long winter months."
"November is a perfect time to take off and do something special; either as personal adventure or with people who are important to you, and our "More Stay Less Pay" makes a holiday in Belize a realistic, affordable option. With expanded air service and competitive rates, getting to Belize has become as easy and inexpensive as a lot of domestic travel, and an all-inclusive vacation means visitors can enjoy three days of rainforest luxury for less than many holidays at home," Mr Harrison said.
"Add in the discounts that come with our November monthly special, and surprising someone with a Belizean getaway becomes particularly enticing," he added.
Mr Harrison said that Chaa Creek's "More Stay Less Pay" is a three-day all-inclusive Belize vacation package that includes everything needed for a complete Belizean holiday, including Chaa Creek's signature eco-luxe accommodation, all meals at the Lodge's Mariposa restaurant including a special Thanksgiving dinner and bottle of wine, enjoyment of amenities including infinity pool, and a wealth of activities.
"We've become known as a foodies paradise with genuine farm-to-table dining sourced from the onsite traditional Maya organic farm and fresh seafood from Belize's Caribbean seacoast, and with Thanksgiving dinner offered throughout November, the bar is raised even higher. With daily swimming and so many healthy outdoor activities, the indulgence is delightfully guilt-free," he said.
Horseback, mountain bike riding, guided birding and nature walks along the well maintained trail system within Chaa Creek's 400 acre private nature reserve are all included in the package, as are canoe and tubing trips down the Macal River, a unique "Creatures of the Night" nocturnal guided nature hike, daytime Maya Medicinal Plant Trail tour, visits to the Natural History Museum and Butterfly Farm and other activities, including a children's rainforest treasure hunt (for four or more) are all included for one discounted price, Mr Harrison explained.
"Another November attraction in Belize is Garifuna Settlement Day, a national holiday that celebrates the landing of the Garifuna on Belize's shores in the 1830s. In 2001 UNESCO proclaimed Garifuna language, music and dance as 'Masterpieces of the Oral and Intangible Heritage of Humanity', and for people lucky enough to be in Belize on November 19, it's easy to see why. The exuberant drumming, dancing, feasting and enactment of the first landing make for an unforgettable cultural experience," he said.
"With so much going on, and Thanksgiving dinner offered throughout the month, lovely weather with daytime highs of 82°F (28°C), pleasantly cooler evenings and a more tranquil, pre-high season atmosphere, November is a great time to be in Belize."
"Add in the savings of our discounted November all-inclusive Belize vacation package, and it becomes more attractive than ever," Mr Harrison said.
Further information and bookings can be organised through travel agents of by contacting Chaa Creek directly, he added.
The Lodge at Chaa Creek is a multi award winning eco resort set within a 400-acre private nature reserve along the banks of the Macal River in Belize.
ENDS