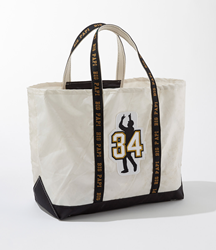 Considering our long-standing partnership with the Red Sox, we wanted to celebrate Big Papi's retirement and his extraordinary career in a way that was uniquely L.L.Bean
Freeport, Maine (PRWEB) September 22, 2016
Internationally recognized outdoor retailer L.L.Bean, best known for its Bean Boot, everyday free shipping and 100% satisfaction guarantee has created a one-of-a-kind, limited edition David Ortiz Commemorative Boat and Tote Bag to honor David Ortiz's retirement and celebrate a remarkable career. The bag is constructed out of the rain-delay tarps that protected the infield at Fenway Park during the Boston Red Sox 2014, 2015 and partial 2016 seasons. The bags will feature an exclusive Ortiz-themed graphic, the words "Big Papi" in gold lettering and an interior pocket that reads "LEG3ND4RY," a nod to his number 34 jersey.
The David Ortiz Commemorative Boat and Tote Bags are $99.95 and will only be available in limited quantities beginning at 9:00 a.m. on http://www.llbean.com, as well as at select L.L.Bean stores beginning at 9:00 a.m., Friday, Sept. 30. Participating stores include L.L.Bean's Flagship Store in Freeport, ME, its Massachusetts stores in Burlington, Dedham, Mansfield and its stores in West Lebanon, NH, Cranston, RI, Burlington, VT and South Windsor, CT. Due to anticipated demand, sales will be limited to one per customer. Thirty-four percent of the net proceeds from the sale of these bags will be donated to the David Ortiz Children's Fund, a non-profit organization committed to helping children in New England and the Dominican Republic who do not have access to the critical pediatric services they need.
"It's really special to me that businesses in New England are coming up with ways to support the David Ortiz Children's Fund during my final season. L.L.Bean and my team have shared a great relationship over the years and I'm happy to be a part of it through this project," said David Ortiz.
"Considering our long-standing partnership with the Red Sox, we wanted to celebrate Big Papi's retirement and his extraordinary career in a way that was uniquely L.L.Bean," said Christina Semanyshyn, partnership marketing manager at L.L.Bean. "And what better way to do that than by honoring a legend with one of our most iconic products, our Boat and Tote Bag. Made from upcycled rain delay tarps used on the field at Fenway Park, we're giving L.L.Bean and Red Sox fans the chance to own a piece of history from two of New England's most beloved icons. So congratulations Big Papi and thanks for all of the years of thrilling baseball you've provided for countless fans, as well as your contributions to the community."
The Red Sox and L.L.Bean have enjoyed a long-standing partnership which in the last few years included turning the 2011, 2012 and 2013 Fenway Park rain-delay tarps into iconic Boat and Tote Bags for fans. The first bag celebrated the 100th Anniversary of both L.L.Bean and Fenway Park, while the second tote enabled L.L.Bean to offer support to The One Fund Boston after the tragedy at the 2013 Boston Marathon. L.L.Bean also partnered with the Red Sox and Major League Baseball in 2014 to create a tote out of the rain delay tarp which celebrated the Red Sox 2013 championship.
Because the material is repurposed, each bag will be unique, making them a collector's item for baseball and L.L.Bean fans alike. The limited edition totes were handcrafted in Maine, just as the outdoor retailer's signature Boat and Tote has been for more than 65 years.
For more information, please visit http://www.llbean.com/tarptote.
About L.L.Bean, Inc.
L.L.Bean, Inc. is a leading multichannel merchant of quality outdoor gear and apparel. Founded in 1912 by Leon Leonwood Bean, the company began as a one-room operation selling a single product, the Maine Hunting Shoe. Still family owned, Shawn Gorman, great grandson of Leon Leonwood Bean, was named Chairman of the Board of Directors in 2013. While its business has grown over the years, L.L.Bean continues to uphold the values of its founder, including his dedication to quality, customer service and a love of the outdoors. L.L.Bean products are rigorously tested, guaranteed to last, and always shipped free. In the past five years, L.L.Bean has donated over $6 million toward conservation and land stewardship. The 220,000 sq. ft. L.L.Bean retail store campus in Freeport, ME, is open 24 hours a day, 365 days a year and welcomes more than 3 million visitors every year. L.L.Bean can be found worldwide at http://www.llbean.com, Facebook, Twitter, YouTube, Pinterest, Google+ and Instagram.
# # #