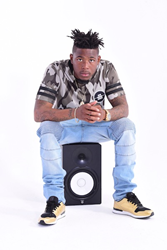 (PRWEB) September 22, 2016
Today Coast 2 Coast Mixtapes announcesthe release of "Joy and Pain", the latest mixtape by Miami Hip-Hop artist Purpose. The mixtape is currently available for streaming and download at the Coast 2 Coast Mixtapes website.
The mixtape features 17 tracks, including those below:
1. Run Me Up A Check
2. Lights (feat. Joe Green)
3. On The Regular
4. Fish Tailing
5. O.T.L (feat. Meek Gucciano)
6. Cut Like That
7. Wanna Ball
8. Change (feat. Young Greatness)
9. Keep It 100
10. On My Own
11. Talk to Me (feat. V Stuck)
12. A1(feat. Tota Boss)
13. 10 Toes
14. Already
15. Same Rollie (feat. Rollie Mellz)
16. For The Record
17. A Way
Purpose is currently seeking press opportunities, interviews, features, and more. He can be reached through his official Twitter page.
About: Purpose: Darius Morgan (born July 26, 1993), better known as Purpose, is an American hip hop recording artist from Miami, Florida. A rapper often depicted as a storyteller, he tells the tale of many, including his own.
Purpose began his musical career early in life. In 1997, at the age of four, he and his siblings were taken in by their aunt after his mother was arrested. He spent a lot of time with his older brothers, cousins, and friends; otherwise known as his Rollies. At five years old, he made his debut on the mic. Those early rhymes consisted of stories based on him and his friends childhood adventures.
In 2009, Purpose and his friends joined forces and created 1 (D.T.S) Down To Slide. Together they spent time writing songs, having cyphers and rap battles, and performing whenever given the opportunity. DTS created brotherhood, which helped Purpose to improve lyrically, and further developed his passion for rap and hip hop.
At the age of 16, Purpose had his first encounter with the police. Unfortunately, throughout his teenage years, Purpose would have multiple encounters with the law. In 2012, he was sentenced to 18 months behind bars, forcing DTS to split up, and Purpose to miss the birth of his first son. Wanting to break the cycle of his parents being absent in his life, he sought after music to create a pathway to do that. Hip hop allowed him to digest his chaotic reality and express it.
While being incarcerated in 2013, he was forced to deal with his mistakes. Falling victim to his surroundings and his choices, prison put an end to his reckless lifestyle. Once behind bars, he was given wise counsel, which helped him to transform his way of thinking. After being released, Purpose realigned his values. He'd finally come to understand that there was more to life. "Once you value life and the life of others you discover your reason for existing." Purpose uses his lyrics to dissect those moments of joy and pain in his life, in an attempt to come to turns with his past, and move towards the future.
"When you know better, you do better."
-Maya Angelou
During his incarceration, the moniker Purpose was born. He attributes it to two fellow inmates who guided him towards enlightenment. He came to the realization that dealing with street life was not the only way to survive. "Most of the people I grew up with are either dead or in jail. I don't want to be a part of that anymore."
Currently, Purpose is pursuing his destiny. His unique style is heavily influenced by the rap pioneers he grew up listening to, Ice Cube, Trick Daddy, JT Money, and Gangsta Shorties. Taken under the wing of his uncle Kenny Lurry, the man behind the success of G-Shorties and the Founder/Ceo OF Stress Records and Unlocked Media Group, he is focused on his music and his record label, Roc N' Rollies Music. In early 2015, he released his self-titled mixtape "Purpose", followed by "On My Own,",which chronicled his road to redemption and shed light on the senseless killings of his community. The official music video premiered in March 2016. Purpose is now working on his next mixtape "Joy and Pain" which will be released the Fall Semester of 2016. It will feature his new single "On the Regular".
About Coast 2 Coast Mixtapes: Coast 2 Coast Mixtapes are the most widely distributed mixtapes in the world, with over 100 million downloads/plays generated by over 300 volumes officially hosted by major artists. Coast 2 Coast has a solid reach in the new music industry with a digital magazine, DJ coalition, industry tips blog, yearly convention, and more. Coast 2 Coast Mixtapes represents a unique opportunity for artists of all urban genres, from major to indie. For more information, visit http://www.coast2coastmixtapes.com.