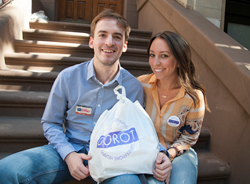 (PRWEB) September 23, 2016
On Sunday, September 25th, DOROT will organize a grassroots package delivery that will bring 600 packages to isolated older adults. DOROT is a social service agency dedicated to alleviating social isolation among older adults by providing services to help them live independently as valued members of the community.
This Sunday's package delivery represents an opportunity to combat social isolation and bring the generations together. Over 600 volunteers from all over New York will deliver packages to isolated seniors and stay for a visit, giving seniors the tools and company they need to celebrate the Jewish New Year.
For the past 40 years, DOROT has provided compassionate care and companionship to isolated older adults. As part of this effort, DOROT delivers holiday packages every Rosh Hashanah filled with grape juice, fruit, Shabbat and Yahrzeit candles, other food staples, and a "Let DOROT Help You Vote" Flyer.
Before delivering a package, volunteers watch a brief orientation video and meet with DOROT staff to go over delivery guidelines. Once they deliver the package, volunteers stay and chat with seniors, swapping stories and often creating lasting friendships and memories. DOROT's Rosh Hashanah Package Delivery brings vital services to elders at a time of year when their loneliness can often be exacerbated by having to spend Rosh Hashanah alone.
DOROT is always looking for new volunteers. If you are interested in participating in DOROT's Rosh Hashanah Package Delivery, please contact DOROT at 212-769-2850 or apply to volunteer at dorotusa.org.