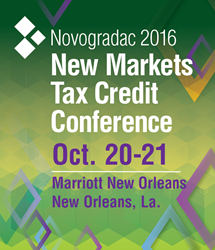 SAN FRANCISCO (PRWEB) September 23, 2016
To prepare for an unprecedented $7 billion new markets tax credit (NMTC) allocation round, community development practitioners will meet to share financing ideas and approaches at the Novogradac 2016 New Markets Tax Credit Fall Conference in New Orleans, Oct. 20-21. The Community Development Financial Institutions (CDFI) Fund announced in April that it would combine the NMTC allocation authorities of calendar years 2015 and 2016 into a single $7 billion allocation round, with awards expected to be announced in late 2016.
"We're awaiting the largest allocation round in the history of the New Markets Tax Credit program," said Brad Elphick, CPA, conference co-chairman and partner in Novogradac & Company LLP's metro Atlanta, Ga., office. "Attendees of the Novogradac 2016 New Markets Tax Credit Conference will be able to use the valuable insights they learn at the conference to prepare for what's sure to be a competitive and exciting 2017."
Attendees can customize their conference experience by choosing panels tailored to their level of expertise. In addition to including discussions of the NMTC program's future, the conference will feature panels on investing in underserved areas, using the U.S. Department of Agriculture's loan guaranty with NMTC leverage loans and structuring NMTCs with historic tax credits. To complement attendees' conference experience, two pre-conference workshops will be offered Wednesday, Oct. 19: NMTC 101: The Basics and Advanced NMTC Concepts. Pre-conference workshop registration is separate and optional. Additional fees apply.
The Novogradac 2016 New Markets Tax Credit Conference is co-hosted by Bank of America Merrill Lynch, Capital One Commercial Banking, Chase, Dentons, Elkins PLC, Husch Blackwell, Squire Patton Boggs and U.S. Bank. Sponsors include Smith NMTC Associates, Greenline Ventures, Cross Street Partners, Kutak Rock LLP, National Trust Community Investment Corporation, Dudley Ventures, Butler Snow, First NBC Bank, Holland & Knight, Coblentz Patch Duffy & Bass LLP, Advantage Capital Partners, Blank Rome LLP, Bryan Cave, Citi Community Capital, Enterprise, Future Unlimited Law, Ginsberg Jacobs, Jones Walker, Lathrop & Gage LLP, Manatt Phelps & Phillips LLP, Stinson Leonard Street, Strategic Development Solutions, Wells Fargo, the Law Office of Mark D. Foster, Perkins Coie, PNC Bank, TD Bank, Twain Financial Partners and Applegate & Thorne-Thomsen. An exhibitor is Ariel Ventures.
Conference details and the complete conference agenda can be found at https://www.novoco.com/events/nolanmtc2016.
About Novogradac & Company
Novogradac began operations in 1989 and has since grown to more than 500 employees and partners with offices in San Francisco, San Rafael, Walnut Creek and Long Beach, Calif.; Dover, Columbus and Cleveland, Ohio; St. Louis; Boston; New York; Chicago; Austin and Dallas, Texas; Portland, Ore.; Naples, Fla., Raleigh, N.C.; Toms River and Iselin, N.J.; and the greater metropolitan areas of Philadelphia; Washington, D.C.; Atlanta; Detroit; Kansas City, Mo.; and Seattle.
Specialty practice areas include tax, audit and consulting services for tax-credit-assisted affordable housing, community revitalization, rehabilitation of historic properties and renewable energy. Other areas of expertise include business valuation, preparation and analysis of market studies and appraisals of multifamily housing investments and renewable energy tax credits.