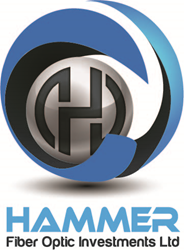 "We believe this validates our business model and confirms that wireless last mile broadband is the future of the industry and we are extremely pleased to be on the forefront of the development and deployment of this technology" - Mark Stogdill
Point Pleasant Beach, NJ (PRWEB) September 22, 2016
The Company has been servicing a small sampling of customers in Ventnor City, near Atlantic City, NJ, and has been very satisfied with the results. Hammer Fiber has already deployed two separate base stations for delivering their service, one located near Atlantic City, one located in Margate, which are covering about two thirds of Absecon Island. The company is in the process of expanding towards a much larger group of beta testers in order to fully test the capabilities of the system prior to a full product launch, which is slated for later this year.
One of the major business opportunities that Hammer Fiber is pursuing is its high-speed last mile services to businesses, and residential customers, who have needs for high-speed data communications. Through the use of their wireless technology, Hammer Fiber is bringing a new level of access to a region that has been plagued by underdeveloped service offerings.
Once established, and based on current results from their preliminary Beta test, the Company feels they will be able to provide up to 300 megabytes per second of data to their subscribers utilizing their propriety wireless fiber technology for last mile delivery.
Mark Stogdill, the CEO of Hammer Fiber commented, "The recent shift with Google Fiber, and now AT&T's announcement with AirGig shows the industry is moving toward wireless technology in the last mile as a means to accommodate the ever increasing consumer demand on bandwidth. We believe this validates our business model and confirms that wireless last mile broadband is the future of the industry and we are extremely pleased to be on the forefront of the development and deployment of this technology."
A link to a recent interview with Mark Stogdill from Hammer Fiber Optics can be found at http://www.wallstreetnewscast.com/profile/hmmr.html
About Hammer Fiber
Hammer Fiber Optic Investments Ltd. D/B/A Hammer Fiber (OTCQB:HMMR) is a registered Competitive Local Exchange Carrier in New Jersey that offers services throughout the New Jersey region, as well as Philadelphia and New York. Along with fiber transit solutions, VoIP platforms, Ethernet connectivity and managed services to businesses ranging from small to enterprise; Hammer Fiber also serves residential and small business markets with broadband, voice and video. For more information visit http://www.hammerfiber.com
Forward Looking Language
This press release contains projections and other forward-looking statements regarding future events or our future financial performance. All statements other than present and historical facts and conditions contained in this release, including any statements regarding our future results of operations and financial positions, business strategy, plans and our objectives for future operations, are forward-looking statements (within the meaning of the Private Securities Litigation Reform Act of 1995, Section 27A of the Securities Act of 1933, as amended, and Section 21E of the Securities Exchange Act of 1934, as amended). These statements are only predictions and reflect our current beliefs and expectations with respect to future events and are based on assumptions and subject to risk and uncertainties and subject to change at any time. We operate in a very competitive and rapidly changing environment. New risks emerge from time to time. Given these risks and uncertainties, you should not place undue reliance on these forward-looking statements. Actual events or results may differ materially from those contained in the projections or forward-looking statements. Forward-looking statements in this release are made pursuant to the safe harbor provisions contained in the Private Securities Litigation Reform Act of 1995.
Contact:
Frank J. Pena,
Director of Investor Relations
Hammer Fiber Optic Holdings Corp.
311 Broadway
Point Pleasant Beach, NJ, 08742
Office: 732-333-3808
Fax: 732-451-2573