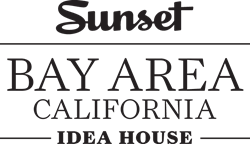 Every year since 1998, the Sunset Idea House has showcased the industry's emerging trends, insider tips and inspiration.
OAKLAND, CA (PRWEB) September 23, 2016
Time Inc.'s (NYSE: TIME) Sunset, the premier guide to living in the West, is wrapping up home tours of the 2016 Bay Area California Idea House this coming weekend, September 23-25. This is the last opportunity for Sunset fans and home design lovers to tour the ultra-modern 3,602 square-foot home, and discover some of today's hottest design trends.
"Every year since 1998, the Sunset Idea House has showcased the industry's emerging trends, insider tips and inspiration. If you are in the area and haven't had a chance to see the Idea House yet, stop by to pick up ideas to try in your own home!" said Irene Edwards, Sunset editor-in-chief.
A few of the trends you'll find at the 2016 Sunset Idea House include:

New and unexpected ways to use wallpaper - Whether used strategically on ceilings, behind glass in the kitchen, or covering a small powder room with an inky, metallic-flecked pattern, wallpaper throughout the Idea House creates drama and a sense of place.
Layer your rugs - By layering smaller, vintage, more expensive rugs over larger neutral, natural fiber pieces, you'll provide a gorgeous focal point while adding maximum warmth to the room. Plus, you'll make your money go farther.
Bring outdoor fabrics indoors - Using outdoor fabrics as wallpaper, couch upholstery and curtains makes for a durable, innovative and paw and fingerprint-proof family room.
Light play - layering lighting fixtures, using different shapes and sizes, and creating a chandelier with individual fixtures are just a few novel ways to brighten your home.
The Idea House, which takes design cues from the Bay Area's prominent Craftsman movement, is nestled in the premier hilltop neighborhood of Claremont Hills bordering Oakland and Berkeley. For the 2016 Bay Area Idea House, which reflects the quintessential Northern California lifestyle, Sunset assembled an award-winning team--Geremia Design, Robert Nebolon Architects, landscape designer Michelle Derviss, builder Landmark Development Corporation and developer DFI Properties--to create an influential home that includes 5 bedrooms, 4 bathrooms, a game room, wine cellar, and a total of five decks overlooking the entire San Francisco Bay. The 4-story home is comprised of fine details and artisan materials to provide warmth to its contemporary architecture.
The Sunset Idea House, located at 540 Gravatt Road, Berkeley, CA, will remain open to the public for home tours Friday, September 23 - Sunday, September 25 from 10 am-5 pm. Tickets can be purchased for $25 and are available online at eventbrite or on-site during tour hours. A portion of the ticket proceeds will go to the Oakland Public Education Fund.
Sponsors of the Sunset Idea House include ATGStores.com, AZEK Building Products, Belgard, DXV American Standard, InSinkErator, J.Lohr Vineyard & Wines, James Hardie, Lamps Plus, Maui Jim, Sunset Western Garden Collection, Torani, and Western Window Systems.
The Sunset Idea House is being sold by Matt Heafey of the GRUBB Company. The listing and home details can be viewed here.
Stay up-to-date on the Sunset 2016 Idea House by liking Sunset on Facebook (http://www.facebook.com/sunsetmagazine), and following @SunsetMag on Twitter, Instagram and Pinterest #sunsetideahouse. Or, go to http://www.sunset.com/ideahouse for more details.
ABOUT SUNSET
Sunset (http://www.sunset.com) is the leading lifestyle brand in the West. Through magazines and books, events and experiences, and digital and social media, Sunset covers the West's best flavors, destinations, design trends, and innovations. Sunset engages and inspires an audience of over five million educated, active and affluent consumers every month through its five regional print editions—Pacific Northwest, Northern California, Southern California, Southwest and Mountain—as well as via all tablet devices and its website. In addition to its print and digital publications, Sunset showcases the region's unique lifestyle and noteworthy destinations through its flagship events, established home programs, licensing partnerships, books and International Wine Competition.
ABOUT TIME INC.
Time Inc. (NYSE:TIME) is one of the world's leading media companies, with a monthly global print audience of over 120 million and worldwide digital properties that attract more than 150 million visitors each month, including over 60 websites. Our influential brands include People, Sports Illustrated, InStyle, Time, Real Simple and Southern Living, as well as more than 50 diverse titles in the United Kingdom.