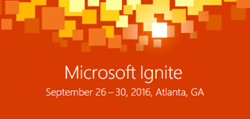 It's great to be recognized for all the hard work we've put into creating intuitive add-ins for Office 365.
Atlanta, Georgia (PRWEB) September 25, 2016
Qorus Software is a finalist in the People's Choice Awards at Microsoft Ignite, taking place in Atlanta, Georgia this week. The company is well-known for its intuitive, Microsoft-based document generation and proposal management solutions, and recently released a series of productivity add-ins for Office 365.
"We're pleased to be part of Microsoft Ignite 2016. It's an honor to have our hard work be recognized in this way" says CEO, Ray Meiring. "We have worked hard to create intuitive productivity add-ins for Office 365."
CAST YOUR VOTE
Voting opens today at http://aka.ms/voteappawards. Delegates can vote in person at the event, via the Polls Everywhere app, or by text message.
VISIT QORUS AT BOOTH 1958
Microsoft Ignite delegates can learn more about Qorus and its solutions by visiting booth 1958. "We'd love to meet as many people as possible at our booth, where we will be running live demos of our solutions," says Meiring.
The freemium Office 365 add-ins can be downloaded here: https://store.office.com/search.aspx?qu=qorus
Learn more about Microsoft Ignite: http://ignite.microsoft.com
ABOUT QORUS
Qorus runs on Microsoft Azure and integrates with Office 365 to enhance document productivity.
We help organizations create business critical documents more efficiently and accurately. Our software is incredibly powerful but highly intuitive and very easy to use. Even the most non-technical users can quickly create accurate, personalized and compliant documents like proposals, contracts, RFPs, pitches, and reports.
Our award winning Customer Success team ensures our customers across all industries get the most value from our software.
Qorus Software has offices in Seattle, London and Cape Town.
Business critical documents are at the heart of your success, and so is Qorus.