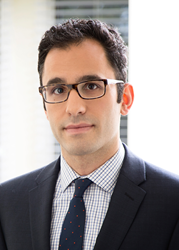 MEDIA, Pa. (PRWEB) September 26, 2016
Nicholas M. Orloff, an estate planning attorney with Delaware County full-service law firm Raffaele Puppio, will address the basics of gifting during an Estate Planning continuing education seminar on Sept. 29 in Pittsburgh.
Orloff, an elder law, estate planning and administration and general litigation attorney, will discuss the basics of the federal gift tax system, gift tax discount planning techniques and estate freeze techniques during his portion of the estate planning panel.
The seminar is designed for Pennsylvania attorneys, accountants, enrolled agents and financial planners; it offers 8 CPE hours for accountants, 6.5 CLE hours for Pennsylvania attorneys and 8 hours for New York attorneys, and 8 CE hours for certified financial planners and IRS enrolled agents. The seminar is presented by HalfMoon Education, Inc., a nonprofit continuing education provider.
Orloff focuses his practice on all aspects of estate planning for clients, including drafting wills, trusts and powers of attorney. He serves as outside legal counsel for various Commonwealth agencies, including the Pennsylvania Department of Revenue and the Pennsylvania Department of Human Services.
Prior to joining Raffaele Puppio, Orloff served as an assistant district attorney in Delaware County, where he successfully prosecuted hundreds of criminal defendants. He earned a bachelor's degree from Pennsylvania State University before going on to earn his law degree from Widener University School of Law, where he graduated summa cum laude and served as his class valedictorian.
About Raffaele Puppio – Raffaele Puppio is one of the largest and most established full-service law firms in Delaware County, Pennsylvania. Attorneys within the firm are known for their legal prowess among the bench and bar in Delaware County, having decades of experience representing school districts, municipalities, businesses and individual clients, helping to solve legal problems while avoiding future legal issues. The attorneys provide sound legal counsel in the areas of education law, government and municipal services, family law, general litigation, personal injury, commercial real estate and business transactions, elder law, estate administration and planning, and criminal law.
# # #