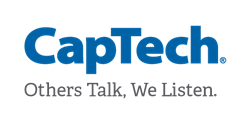 Columbus has an amazing spirt of collaboration that culturally is a great fit for CapTech
Columbus, Ohio (PRWEB) September 26, 2016
National management and IT consulting firm CapTech announced today that it has expanded its presence in the Midwest with the opening of a new office in Columbus, Ohio. CapTech is now located in 11 major markets across the United States.
Over the past ten years, the company, who employs more than 600 consultants enterprise-wide, has quadrupled in size. In Columbus, they are creating jobs for top technology and management consulting talent, and expect to add over twenty-five new positions over the next two years. Consulting Magazine currently ranks CapTech #6 on their list of Best Firms to Work For.
"Columbus has an amazing spirit of collaboration that culturally is a great fit for CapTech," said CEO Kevin McQueen. "We are excited to make this investment in Columbus to help our clients thrive. We bring unparalleled depth of technical aptitude and expertise to our engagements. The talent in Columbus is very strong, allowing us to build a great team that is aligned with CapTech's core values."
CapTech's Columbus Office Leader is Rick Ainsworth, who has lived and worked in the market for the past decade. "A longstanding client relationship launched our expansion to this market. We see significant growth opportunities in Columbus which will allow us to leverage CapTech's particular strengths with retail, financial, and government clients. Our powerful application development, architecture, and data capabilities, and our ability to deliver innovative solutions above client expectations in these spaces is what sets us apart."
"The age of the customer is driving additional growth for CapTech," says McQueen. "We are uniquely qualified to help clients digitally transform their business from customer engagement, mobile and web implementation, integration with current systems, and the analytics to support rapid response to customer demands." Future growth expectations are reinforced by a recent Forrester Consulting study commissioned by CapTech that revealed 63% of IT sourcing decision makers plan to shift digital projects away from offshore firms and back to U.S. providers because of the need for high quality and on-time development
A core value for the company is being a community partner. CapTech recently became a member of the Columbus Chamber of Commerce and the office is engaging with local organizations to give back to the community. Recently, CapTechers have sponsored and volunteered with local charities such as Pelotonia and the Mid-Ohio Food Bank.
CapTech's Columbus office is located at 629 North High Street, 4th Floor, Columbus, OH 43215. For more information, contact Rick Ainsworth at rainsworth(at)captechconsulting(dot)com
About CapTech: CapTech is an IT management consulting firm that bridges the gap between business and technology. CapTech delivers transformation, customer engagement, data & analytics and custom IT solutions for private companies, public companies and government agencies. The company's collaborative approach helps organizations grow their business, engage with customers and turn data into powerful insights. Headquartered in Richmond, Virginia, CapTech has locations in Atlanta, Baltimore, Charlotte, Chicago, Denver, Orlando, Philadelphia, San Francisco, and Washington D.C.