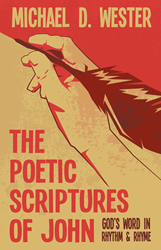 I want...to inspire those who might otherwise hesitate in reading the Bible.
SAGINAW, Mich (PRWEB) September 26, 2016
Making Scripture into poetry may not sound difficult, but doing it correctly and accurately takes time and dedication.
In "The Poetic Scriptures of John," author Michael D. Wester translates all of the apostle John's writings from the original Greek text to poetic rhyme. Wester uses original rhythm and rhyme in order to produce a translation that will inspire all English speakers to look to God's word for guidance and support through life.
"I want to reach the English speaking world with this unique translation," Wester said. "To inspire those who might otherwise hesitate in reading the Bible."
Wester is the Pastor of Lighthouse Baptist Church and a lifelong student of the Bible and the Word of God. Using his education, his profession and his love of Christ, Wester diligently set out to offer a new way of looking at and living through God's Word.
"Not only did I want to help the followers of Christ, but the academics and pastors as well," Michael said. "This is a resource to learning God's Word while also enjoying the process of it."
"The Poetic Scriptures of John: God's Word in Rhythm & Rhyme"
By Michael D. Wester
ISBN: 9781512745030
Available in softcover, hardcover, e-book
Available on Amazon, Barnes & Noble and AuthorHouse
About the author
Michael Wester received a Master of Divinity degree at Southwestern Baptist Theological Seminary in Texas, focusing on biblical Greek. That education has been used to bring people face-to-face with God's Word. Michael has been pastor of Lighthouse Baptist Church in Caro, Michigan since 1984. He has been married to Donna since 1980 and they have two grown children. Along with "The Poetic Scriptures of John," Michael has since added "The Poetic Scriptures of Luke" which include the Gospel of Luke and Acts.
# # #
For review copies or interview requests, contact:
Elizabeth Coomer
317.602.7137
ecoomer(at)bohlsengroup(dot)com