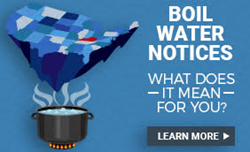 DeLand, Florida (PRWEB) September 26, 2016
Pelican Water Systems, industry respected for their dedication to providing affordable, cleaner drinking water for all, is pleased to unveil the results of a study on boil advisories.
According to a study conducted by Pelican Water, more than 20,000 boil orders were issued in the United States from 2012 to 2014. In these cases, public health experts often recommend that consumers boil water for 1 to 2 minutes before using it to drink, cook, brush teeth, make ice, or wash dishes.
In many cases, boil orders are issued in response to a suspected, or in some cases a confirmed, contaminant leak into the local water supply. Common causes include:

A water main break or leak
Low water pressure
Scheduled maintenance
A confirmed microbial contamination
The study revealed that the month of September has the third highest levels of boil advisory notices nationwide. That's why it's increasingly important to pay attention to the water quality in consumer homes as well as treatment options to purify drinking water.
According to the study, a home water filtration system can present the safest, most efficient way to safeguard one's family against the possible contaminants that spur frequent boil advisories. Pelican Water's UV System is one possible solution to the boil water advisory crisis. These eco-friendly systems use no more energy than a standard 40-watt light bulb and are NSF-certified. Offering a 10-year guarantee and available in a variety of price points, the Pelican Water UV System destroys 99% of pathogens, viruses, and other contaminants that often trigger boil orders.
In addition, Pelican Water's three-stage Drinking Water Purification System, also NSF certified, offers a 1,000-gallon capacity with no wasted water or electrical consumption. With a metered flow and simple installation, these systems also provide up to 99% removal of chlorine, lead, virus, bacteria, cysts, particulates, and numerous organic compounds.
Conclusive results of the study showcase the potential causes for boil orders, as well as tips on how to safely prepare water for consumption.
About Pelican Water Systems:
PelicanWater.com is the official, factory-direct retail website for Pelican Water Systems, providing professional knowledge and leading technologies in whole house water filtration, countertop water filtration systems, UV bacteria disinfection systems, as well as salt-free water softening and conditioning systems. Pelican Water products use cutting-edge technology and enable customers to go green by eliminating wasteful and harmful salt brine discharge that is polluting our valuable fresh water resources. Pelican Water is also proud to offer under-counter reverse osmosis systems that are small enough for practical use in RVs and marine vessels. For over a decade, Pelican Water has stayed true to their mission statement: being a company that helps families enjoy cleaner, safer, better-tasting water in their homes in an environmentally friendly way. Pelican Water has been and continues to be the global market leader in salt-free water softening systems. For more information about Pelican Water Systems, visit PelicanWater.com.