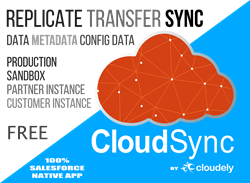 CloudSync helped us reduce our production migration effort by more than 50%
San Jose, CA (PRWEB) September 29, 2016
Salesforce leading implementation Partner, Cloudely recently unveiled CloudSync on Salesforce AppExchange platform. While working with several customers implementing and customizing Salesforce Sales Cloud, Service Cloud and AppExchange applications, Cloudely built a solution that provides essential functions, giving businesses a wide range of promising new options when it comes to data synchronization, replication and integrations - all native within Salesforce platform.
CloudSync is now available for free on AppExchange platform where Administrators and Developers can utilize the tool to quickly and effortlessly sync data back and forth between various Salesforce environments - all with zero coding involved. CloudSync provides Sales Cloud prebuilt templates out of the box and can be used to migrate data instantly - and can also be extended/customized by with ease.
CloudSync is the only tool available on AppExchange platform that works with end user data as well as application configuration metadata - helping Customers with various use cases such as:

Resolving production issues by replicating production data to developer sandbox without a need of full-copy sandbox.
Helping to migrate application configuration metadata from developer sandbox to production environment - without the need of creating configurations in production.
Integrating data between enterprise Quote to Cash AppExchange applications using CloudSync's pre-built adapters (paid version).
Eliminating the need for a costly full-copy sandbox by allowing you to easily copy data from production to developer or developer plus environment.
Thanks to powerful features and capabilities that Cloudely has incorporated into CloudSync, businesses utilizing Salesforce platform can now save time and cost by easily syncing, replicating, and integrating their data across a variety of environments. CloudSync eliminates the need to use programs such as Excel to migrate data, which were never built to handle large amounts of complex data and require many man hours to accomplish the task at hand. By fully automating the entire process and placing tons of new capabilities at your fingertips, CloudSync is set to forever change the way businesses interact with the Salesforce platform and push forward Cloudely's continuous goal to provide the most comprehensive, easy-to-use business solutions in the industry.
CloudSync is now available on the Salesforce AppExchange for free.
About Cloudely
Cloudely is the leading independent provider of enterprise cloud services for Salesforce applications. With a unique blend of expertise in quote to cash business processes and technologies, Cloudely is redefining enterprise services with innovative, award winning programs and methodologies helping customers transform their businesses. From assessing strategic business & technology needs to implementation, customization, training and support & maintenance, Cloudely has successfully completed several projects for global enterprises in various industries. To learn more, visit http://www.cloudely.com
Various trademarks listed in this PR release is held by their respective owners.