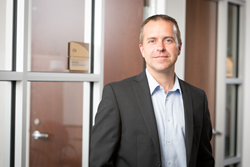 "David's significant experience in lifesciences will complement ERT's expertise in managing our customers' most complex challenges, helping them to minimize risk so they can move ahead quickly during clinical development."
PHILADELPHIA (PRWEB) September 27, 2016
ERT, a leading provider of high-quality patient data collection solutions for use in clinical drug development, today announced the appointment of David Elario to Executive Vice President, Operations Delivery. The expansion of its executive management team enhances ERT's leadership and capabilities in providing trial sponsors and CROs with more certainty during program delivery.
In the newly created role, Elario will oversee all of ERT's cross-functional operations, delivering the adaptive problem solving required to swiftly address challenges as they arise.
"David's significant experience in lifesciences will complement ERT's expertise in managing our customers' most complex challenges, helping them to minimize risk so they can move ahead quickly during clinical development," said James Corrigan, President and CEO, ERT. "We are thrilled to have him join us."
"This is an exciting time in the industry as every day more and more researchers are recognizing the benefits of centralized patient data collection," said Elario. "I'm excited to join ERT's highly skilled executive team and to deliver eClinical solutions and services that trial sponsors can have confidence in at every turn during clinical development."
For more information on ERT's leadership team, visit https://www.ert.com/about-us/ert-leadership/.
About ERT
ERT is a leading provider of high-quality patient data collection solutions for use in clinical drug development. ERT delivers a combination of technology, services and clinical consulting that increase the accuracy and reliability of patient data and improve the efficiency of the clinical development process. ERT delivers widely deployed solutions in centralized Cardiac Safety, Respiratory, and electronic Clinical Outcome Assessments (eCOA) – which includes patient-, clinician-, observer- and performance-reported outcomes – and cloud-based analytics and performance metrics. By efficiently integrating these solutions through a system built upon a scientific and regulatory foundation, ERT collects, analyzes and delivers safety and efficacy data critical to the approval, labeling and reimbursement of pharmaceutical products. For more information see http://www.ert.com. Join ERT on LinkedIn, Twitter, YouTube and Facebook.