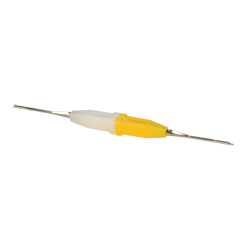 "The Mil-Aero Industry needed a new tool urgently, so they turned to Aiconics who met their needs by providing the insight and expertise to develop the new M81969/1-05 contact insertion/removal tool," said Mark Hearn, Product Manager
NORTH ANDOVER, Mass. (PRWEB) September 28, 2016
Aiconics, a leader in the design, production and manufacture of key front line products for the assembly and maintenance of high-reliability electrical connectors, announced today that it has released a new insertion/extraction tool for use with AS38999 series connectors.
The M81969/1-05 can be used to easily insert and extract size 23 to 26 contacts used with MIL-DTL-38999 high density connectors which are typically found in defense and commercial applications.
The M81969/1-05 features a rugged plastic body with metal tips (Type III, Class 2, Composition C) and is pending QPL approval and the release of the AS81969/1A specification. The tool is commercially available and is now in stock.
"The Mil-Aero Industry needed a new tool urgently, so they turned to Aiconics who met their needs by providing the insight and expertise to develop the new M81969/1-05 contact insertion/removal tool. The M81969/1-05 complies with the AS81969/1 Rev A specification and was designed for use with MIL-DTL-38999 high density connectors," said Mark Hearn, Product Manager.
Additional features of the M81969/1-05 include extra long tips which improve serviceability for connector contacts and this new tool is available with other metal tip materials upon request.
For more information about this release, please contact:
Peter McNeil, Marketing Manager
978-682-6936 x1174, pmcneil(at)l-com(dot)com
About Aiconics:
Aiconics is a world leader in the design, production and marketing of key front line products for the assembly and maintenance of high-reliability electrical connectors in the commercial, military and aerospace industry markets. Aiconics serves all the major OEM connector companies worldwide as well as their value added distributors. As an industry leading manufacturer and source for Mil/Aero electrical connector contact insertion/extraction tools and connector sealing plugs, Aiconics offers exceptional manufacturing with zero lead-time and exceptional distribution with minimum to zero lead-time. Aiconics has been assessed and registered by Intertek as conforming to the requirements of AS9100C and ISO 9001:2008. For more information, please visit: http://www.aiconics.com