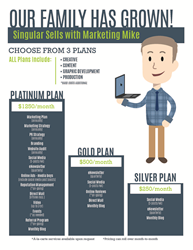 We are very excited to be teaming with Singular Payments! We have so much fun collaborating with their team so it seemed like the logical choice. This is only the beginning!
Saint Augustine, FL (PRWEB) September 27, 2016
Singular Payments, LLC., the only payment processor in the industry focused on true custom flat rate credit card processing is excited to announce their new partnership with Troika Studio to offer a custom flat fee marketing program designed to help merchant businesses grow and thrive. Combining the marketing skills from Singular Payments' internal team with the design and development prowess of the 17-year veteran team at Troika Studio, the new program coined 'Singular Sells with Marketing Mike' has launched its first phase beta program initiative.
Based in Saint Augustine, Florida the Troika team is led by Michael Birchall and Seth Ferreira. Principal and Creative Director Michael Birchall is a 1994 alumnus of Flagler College. Michael became the founding member of the team in 2000 after gaining valuable experience as the Art Director for the Kurtis Group. Before that, he was a software interface designer for Lifeware Technologies in St. Augustine. He brings over 20 years of experience and tons of natural talent to the team. Michael has taught Computer Graphics at Flagler College and Advertising Design at Florida School of the Arts. Seth Ferreira is the team's Principal Interactive Director and joined Troika after four years in the creative department of Lifeware Technologies where he designed user interfaces for internet, intranet and CD-ROM media. His solid background in print and web design continues to help companies move forward with his innovative approach to design, marketing, and branding. Seth has taught web design at Flagler College for eight years. "We are very excited to be teaming with Singular Payments! We have so much fun collaborating with their team so it seemed like the logical choice. This is only the beginning! Good times ahead!" - Michael Birchall, Founder, President and Creative Director at Troika Studio.
The Singular/Troika marketing program offers merchants their choice of three levels of flat fee monthly marketing plans ranging from a Platinum plan that's inclusive of a very robust full-service marketing program to a mid-level Gold plan that includes a quarterly eNewsletter, weekly social media, online reviews, direct mail and a monthly blog post and a scaled down Silver plan that's just $250/mo. All plans offer flexibility based on the individual businesses' needs and a-la-cart services are also available by request.
To become part of the free 90-day marketing beta program email Kimber McCafferty at Kimber(at)singularpayments(dot)com to learn more.
About Singular Payments, LLC
Based in sunny Saint Augustine, FL Singular Payments, LLC is a sales and marketing company serving the payment processing industry with a revolutionary limitless flat rate billing model that simplifies accepting credit/debit cards for small to medium-size merchants nationwide. Call (877) 829-7256 for a free savings analysis or visit us online at http://www.singularpayments.com to learn more.
About Troika Studio
Troika a full-service creative marketing and design studio. Their staff consists of creative professionals who have won national recognition for their work in brand identity, website development, print and digital marketing campaigns, publication work and targeted video productions.
###