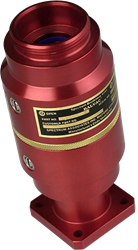 Spectrum can handle precision assemblies, hydraulic sub-assemblies, manifolds and fuel system sub-assemblies.
Milford, CT (PRWEB) September 29, 2016
Spectrum Associates, Inc. of Milford Connecticut, a pioneer in self-sealing breakaway valve design, is a key supplier for a Federal Aviation Administration (FAA) mandate regarding fuel system crash resistance.
The U.S. National Transportation Safety Board (NTSB) has been urging the Federal Aviation Administration (FAA) to require crash-resistant fuel systems for all newly manufactured rotorcraft — regardless of when the aircraft were originally designed.
In a safety recommendation issued on July 23, 2015, the NTSB calls for fuel systems in all new helicopters to meet crashworthiness requirements of 14 Code of Federal Regulations 27.952 or 29.952. Those standards were originally introduced in October 1994, but currently do not apply to rotorcraft with type certificates approved before that date.
As a result, only about 15 percent of U.S.-registered helicopters manufactured since 1994 have fuel systems that meet the crashworthiness requirements. According to the NTSB's calculations, that means around 4,750 U.S.-registered helicopters manufactured over the past two decades do not have crash-resistant fuel systems, which have been demonstrated to substantially reduce the risk of post-crash fires and thermal injuries to occupants.
"Given the significant safety benefit of crash-resistant fuel systems, the NTSB is concerned that, 20 years after needed safety improvement in the design of helicopters was mandated, such a small percentage of U.S.-registered helicopters currently flying meet the requirement for these systems," the NTSB wrote in a letter to the FAA.
Spectrum breakaway valves also offer compliance with FAR. 14 CFR PART 25 AIRWORTHINESS STANDARDS: TRANSPORT CATEGORY AIRPLANES for fixed wing aircraft.
As an approved manufacturer of crash-resistant breakaway fuel valves, Spectrum, established in 1957, has a longstanding history of delivering state-of-the-art capability to aviation. Spectrum's crash-resistant breakaway fuel valves provide proven sealing capability to seal fuel or other flammable fluids within hoses, tanks or bladders to prevent hazardous fluid flow due to crash or hard landings for a wide variety of fixed and rotary wing aircraft.
Spectrum's 14000 "BALVAC™" Series of self-sealing breakaway fuel valves (couplings) for crash-resistant fuel systems are designed to close to avoid post-crash or hard landing fuel leakage as a result of airframe structure relative movement. The patented design valves are installed where fuel lines connect to tanks, between tanks, at firewalls, and other points where crash or hard landing can cause fuel system leaks.
Spectrum's compact & efficient BALVAC™ valves are designed and qualified to meet MIL-STD-1290 and SAE AIR-1616 requirements. The simple design incorporates qualified and proven frangible elements in Franginsert™ construction. Upon valve separation, Centrip™, a captive hemispherical trigger, leaves its mating socket releasing each ball valve to instantly rotate shut.
Spectrum has made notable advances in diversified technologies, positioning the company to its current status as a prominent CAD/CAM engineering-oriented supplier to the aerospace industry. Spectrum has demonstrated steady growth with expanded products and sales. Capitalizing on dedicated research and development of aerospace instruments, Spectrum has a continuous record of successfully producing state-of-the-art crash-resistant breakaway valves, pressure switches, indicators and hydraulic subassemblies. Spectrum has earned 30 U.S. and foreign patents protecting its broad product line and manufactures all products in their two facilities in Milford, CT. Spectrum is an integrator working with OEMs to achieve unique application solutions.
Spectrum's customers include US DoD, NASA, Sikorsky Aircraft, Boeing, Northrop Grumman, Lockheed Martin, Bell Helicopter, Honeywell, HR Woodward, General Electric, CASA, Westland Aerospace, Hamilton Sundstrand, Parker, Meggitt, Kaman, Fokker, Airbus, Eaton and Augusta-Westland with numerous additional OEMs worldwide.
Spectrum is an AS-9100-certified "lean journey" engineering and design company.
For more info, visit spectrumct.com, or email mdris(at)spectrumct(dot)com.
For press inquiries email to: press(at)usadagency(dot)com.