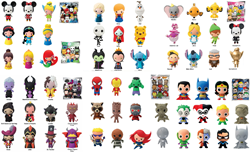 Walnut, CA (PRWEB) September 28, 2016
Monogram would like to announce the retirement of our Best Selling 3D Foam Collectible Series. Disney Series 1, Series 2, Series 3, and Disney Villains Series 1 features classic characters such as Mickey, Disney princesses the Little Mermaid's Ariel, Elsa and Anna of Frozen, Peter Pan, Disney's Villains such as the Evil Queen, as well as Carl and Russell from Pixar's Up. Our DC Series 1, Marvel Series 1 and lastly Marvel's Secret Wars featured Comics most popular heroes and villains such as Iron Man, Hulk, Star-Lord from Guardians of the Galaxy, and of course DC Comics Batman and Superman.
Monogram has manufactured and sold millions of 3D Foam Key Rings nationwide. Not only is it one of the best sellers but it is the most eclectic series collectibles. It's sad to see some of the greatest series retire, but they will be replaced with newer series with even more fun creative characters. These key chains can normally be found at popular retailers such as Hot Topic, Entertainment Earth, Toys R' US and many more. Don't wait, grab these collectible key chains while supplies last.
About Monogram
Monogram International Inc. has the reputation of being a world leader in quality and bringing licensed characters to life with our wide variety of licensed gift ware, toys, aged collectibles and souvenirs for children and adults of all ages. Monogram International was established in 1971 and it continues to create a faithful brand of merchandises for consumers of all ages.
Monogram Social Media Channels:
Facebook: https://www.facebook.com/MonogramInternational/
Twitter: https://twitter.com/MonogramDirect
Youtube: https://www.youtube.com/channel/UCDgymHLx2gC2P8geIU2TLuw
Media Contact
Michael Normann
Vice President Marketing & Sales
Monogram International, Inc.
909-718-8388
mnormann(at)monogramdirect(dot)com