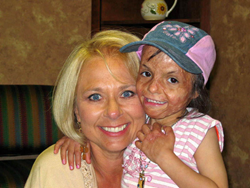 I'm in extraordinary company on the Advisory Board. It really is a privilege to be of assistance to the thousands of children that are so vulnerable in Iraq.
Painesville, Ohio (PRWEB) September 29, 2016
Barbara Marlowe, Marketing & PR Director for the NE Ohio law firm Dworken & Bernstein Co. L.P.A., has been selected to serve on the Iraqi Children's Foundation Advisory Board. Based in Church Falls, Virginia the Iraqi Children's Foundation works to assist an estimated 800,000 children who were orphaned over ten years of war. More than 1 million have been displaced by ISIS. Thousands work on the streets or in other unsafe places. Too many children are vulnerable to recruitment and exploitation by criminals or terrorists, as well as physical abuse and human trafficking. The mission of the Iraqi Children's Foundation is to assist the families and communities of Iraq by mobilizing a life-changing "Surge of Love" for millions of children orphaned by violence in Iraq.
On July 16, 2006, Barbara read about Teeba Furat Fadhil in the Cleveland Plain Dealer. She and her husband Tim then began an epic adventure to bring Teeba, a severely burned 5-year old girl from Iraq, to the United States for medical treatment. When Teeba was 19 months old, she sustained severe burns to her face, head and hands when an insurgent bomb tore through the back of a taxi that she was in with her 3-year old brother and father. Her brother Youseff was killed and her father sustained minor injuries. One year to the day of first reading about her in the paper, Teeba arrived. Teeba has undergone 19 surgeries to replace the skin on her face and head at University Hospital's Rainbow Babies & Children's Hospital. Additional surgeries are yet to be scheduled. Teeba is now 14 years old and hopes to be a Pediatric Anesthesiologist one day.
In addition to her regular responsibilities for Dworken & Bernstein, Barbara oversees their Ohio Lawyers Give Back initiative and has worked with over 300 recipients of cy pres distributing more than $32 Million to charity. With her extensive background in fundraising, Barbara understands firsthand how difficult it is to continually raise money to support programs that will benefit the community and the people they serve. She is highly skilled in cultivating relationships and creating a synergy amongst charities, the business community and the public.
She has served on the board of The Gathering Place, Cornerstone of Hope and the Geauga Humane Society/Rescue Village and is currently on the Rainbow Babies & Children's Hospital Leadership Council as well as a board member of Dogs Unlimited Rescue. She is also co-chair of an event called Save a Smile, Save a Child that has benefitted the Cranio Facial Department at University Hospital's Rainbow Babies & Children Hospital for the past 5 years
For over 50 years, Dworken & Bernstein has offered a full range of legal services for businesses, individuals, and families. Dworken & Bernstein Co., L.P.A. is the largest law firm in Lake, Geauga and Ashtabula Counties with over 30 attorneys and 35 support staff in offices located in downtown Cleveland and Lake County.