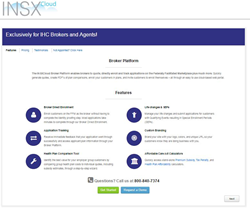 From day one, it has been our objective at INSXCloud to provide brokers with the tools they need to increase efficiency and help them grow their business. IHC is the perfect partner for us to further our mission.
Minneapolis, MN (PRWEB) September 28, 2016
The IHC Group (IHC) today announced a strategic distribution alliance with INSXCloud, making IHC's ancillary products available on the INSXCloud Broker Platform, a Web Based Entity (WBE) enrollment site.
WBEs are certified by Centers for Medicare and Medicaid Services and play a crucial role in connecting consumers to the federally facilitated marketplace. Based in Akron, Ohio, INSXCloud allows insurance producers and brokers to easily quote, and enroll clients directly onto healthcare.gov and track their applications.
The platform also enables client management when there is a qualifying event resulting in a special enrollment period. Additionally, INSXCloud provides health insurance comparison tools to identify the best value for the enrollee, as well as Affordable Care Act calculators to help estimate premium subsidy, tax penalty and health plan affordability.
"We realize that this open enrollment will be challenging for producers and consumers, due to the higher costs anticipated on individual ACA plans, and the lack of competition in many markets," said Dave Keller, Chief Sales and Marketing Officer for IHC Specialty Benefits. "We are excited to partner with INSXCloud to offer our individual ancillary products which can lessen the financial impact of the high out-of- pocket limits associated with Obamacare plans"
IHC will offer INSXCloud access to producers working with its subsidiary, IHC Specialty Benefits. IHC's ancillary products that will be available through INSXCloud include individual dental, gap, telemedicine and association plans.
"From day one, it has been our objective at INSXCloud to provide brokers with the tools they need to increase efficiency and help them grow their business," remarked Scott Klonowski, Chief Executive Officer of INSXCloud. "IHC is the perfect partner for us to further our mission. The integration of IHC's best-in-class individual ancillary offerings with our Platform will empower brokers to increase sales, create additional revenue streams, and provide additional value to their customer base."
For more information on INSXCloud for The IHC Group, please call 952-746-6610. You can also visit https://ihc.insxcloud.com for additional information.
#
About The IHC Group
Independence Holding Company (NYSE: IHC) is a holding company that is principally engaged in underwriting, administering and/or distributing group and individual disability, specialty and supplemental health, pet, and life insurance through its subsidiaries since 1980. The IHC Group owns three insurance companies (Standard Security Life Insurance Company of New York, Madison National Life Insurance Company, Inc. and Independence American Insurance Company) and IHC Specialty Benefits, Inc., which is a technology-driven insurance sales and marketing company that creates value for insurance producers, carriers and consumers (both individuals and small businesses) through a suite of proprietary tools and products (including ACA plans and small group medical stop-loss). All products are placed with highly rated carriers.
"IHC" and "The IHC Group" are the brand names for plans, products and services provided by one or more of the subsidiaries and affiliate member companies of The IHC Group ("IHC Entities"). Plans, products and services are solely and only provided by one or more IHC Entities specified on the plan, product or service contract, not The IHC Group. Not all plans, products and services are available in each state.
About IHC Specialty Benefits, Inc.
IHC Specialty Benefits d/b/a Health eDeals Insurance Solutions is a full-service marketing and distribution company that focuses on small employer, individual and consumer products. Products are marketed through general agents online, telebrokerage, advisor centers, private label and directly to consumers.
About My1HR, Inc.
Headquartered in Akron, Ohio and designed by a broker with over 20 years in the industry, My1HR, Inc. provides cutting edge software solutions and professional services to health insurance issuers and brokers. Today, thousands of insurance brokers use My1HR technology to quickly and accurately quote and directly enroll their customers through one of our INSXCloud Issuer Platforms or the INSXCloud Broker Direct Enrollment Platform.