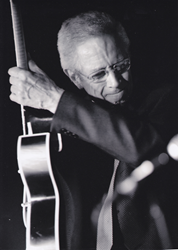 "Kenny plays such an important role at UCLA, in helping to establish a new paradigm for music education and the future of Jazz," - Herb Alpert
Los Angeles, CA (PRWEB) September 27, 2016
The UCLA Herb Alpert School of Music with Friends of Jazz at UCLA announce a benefit concert to honor Kenny Burrell, distinguished professor and director of Jazz Studies at UCLA. The concert program features new original works by Kenny Burrell, and a new work by composer Lalo Schifrin, performed by the Los Angeles Jazz Orchestra Unlimited and the UCLA Philharmonia under the direction of conductor Neal Stulberg.
The Kenny Burrell 85: Artist, Legend, Legacy benefit concert is Saturday, December 3 at 7 p.m. in Royce Hall, UCLA. It will include Burrell's heart-felt tribute to Billie Holiday. The evening closes with 'Love Suite' for full orchestra, choir, and strings with Kenny Burrell on guitar.
In Kenny Burrell's honor UCLA will establish a Chair named for him – The Kenny Burrell Chair in Jazz Studies. The Herb Alpert Foundation has given the lead gift of $500,000 towards establishing this Chair, which will provide resources for student scholarships, faculty programs, and performances in the area of Jazz Studies.
"Kenny plays such an important role at UCLA, in helping to establish a new paradigm for music education and the future of Jazz," said Herb Alpert, the legendary trumpet player and philanthropist.
Kenny Burrell made his studio recording debut in 1951 on a combo session with Dizzy Gillespie, John Coltrane, Milt Jackson, and Percy Heath. Burrell, the NEA Jazz Master, has released over 100 records and performed and recorded with many of the great jazz musicians including Oscar Peterson, Charlie Parker, Miles Davis, Billie Holiday, Sonny Rollins, Ray Charles, Art Blakey, and Louis Armstrong. In 1978, Burrell joined the music faculty of UCLA, and in 1996 he was named the founding director of the UCLA Jazz Studies program, and 15 years ago, he created the Kenny Burrell Archive of African American Music at the UCLA Ralph J. Bunche Center for African American Studies.
Tickets for the concert go on sale Friday, October 7 at 10 a.m. Available via ticketmaster.com and at UCLA by phone (310) 825-2101, or in person at the UCLA Central Ticket Office on campus. Tickets: $135/Orchestra; $85/Balcony.
The concert proceeds will support the Kenny Burrell Chair in Jazz Studies at the UCLA Herb Alpert School of Music.
SPONSORHIP INFORMATION
Concert sponsorship packages for the Kenny Burrell Chair in Jazz Studies are available from $2,500 to $100,000. For information please call Eshon Allen at (310) 825-9008