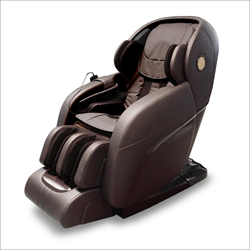 Mattress Firm has already been very successful selling the Presidential, so we're very excited about continuing our relationship with them.
Kingston, NH (PRWEB) September 29, 2016
Infinity™ Massage Chairs and Furniture Firm by Mattress Firm™ will expand their partnership at the upcoming State Fair of Texas, where the furniture giant will feature the new Presidential 2.0 massage chair as well as a brand new addition by Infinity.
Infinity is already recognized for its elite massage chairs such as the Riage™ and the IT-8500. The manufacturer has recently made improvements on the Presidential massage chair, a Furniture Firm exclusive, which is now more relaxing and user-friendly than ever. Furniture Firm will also debut the Imperial massage chair, a highly-sophisticated chair aimed at those with an especially refined taste.
"Mattress Firm has already been very successful selling the Presidential, so we're very excited about continuing our relationship with them," said Michael Milone, Infinity's National Dealer Manager. "The Presidential 2.0 offers a great deal to customers considering its price point."
The Presidential 2.0 has a new design, which includes an outer shell made of high-quality synthetic leather to give it more of a classic feel, and is available in black or brown. Infinity also added 3D massage rollers, so users can adjust the intensity of their massage. Aside from that, the Presidential still offers feature favorites like zero gravity, space-saving technology, and an L-track, as well as mobile apps for both Apple® and Android®.
"The Imperial is our most innovative chair yet, offering the most comforting massage you could get from the privacy of your own home," Milone continued. "We're confident in the Furniture Firm team's ability to market and educate customers about this luxurious chair, which can truly improve people's quality of life."
Slated to be sold at a higher-end price point, the Imperial brings the massage experience to a whole new level. The new leg rest design includes separate compartments for each leg, foot and calf rollers, and rolling airbags. Users will enjoy the option of using either a wired or wireless remote. The Imperial also features an ionizer system in the headrest, which blows out fresh air to relax and rejuvenate users. Of course, it is still equipped with 3D massage technology, space-saving technology, an L-track, and mobile apps for both Apple and Android.
This year marks the second that Furniture Firm showcases Infinity Massage Chairs at the State Fair of Texas, which is held in Dallas' Fair Park from September 30 to October 23, 2016. Fairgoers will have the opportunity to try out the Presidential 2.0 and the Imperial at any of the Mattress Firm locations throughout the fairgrounds.
Furniture Firm by Mattress Firm has a large presence at a host of major fair and trade show events across the country. Infinity anticipates more positive results by combining its elite massage chairs with Furniture Firm's expertise and reputation. The partners plan to continue delivering first-rate customer experiences.
About Furniture Firm by Mattress Firm
Furniture Firm by Mattress Firm specializes in high-quality home furnishings from the top brands in the industry. The company has been strictly an events and expositions retailer since its establishment in 2011. Without brick and mortar stores, Furniture Firm is able to pass the savings of reduced overhead directly to its customers.
About Infinity Massage Chairs
Infinity Massage Chairs has been leading the market since 2009, when it launched its line of upscale massage chairs. Since then, it has added significantly to its product line and continues to be recognized as a leader among the industry. Infinity ensures attentive sales support from the beginning and guarantees all of its massage chairs with a comprehensive warranty and lifetime technical support. The company's mission is to improve the well-being of its customers and provide the best in customer service.
To learn more about Infinity™ Massage Chairs, call 603-347-6006 or visit Infinity Massage Chairs.