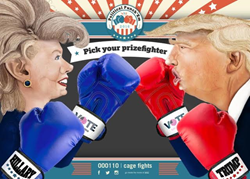 "We asked ourselves, 'How can we comment on how many Americans are feeling about the two presidential candidates?' and 'How can we inspire people to take action and vote?'
Fort Lauderdale, Florida (PRWEB) September 28, 2016
With the presidential election right around the corner, the current political climate is hotter than ever. In response to the collective frustration of the American public, MAD Studios has developed Political Punch 'Em, a mini-game that allows users to knock out their least favorite presidential candidate.
Political Punch 'Em takes inspiration from Google's latest technology. Users control the punching gloves of Donald Trump or Hillary Clinton with their phones, as the characters duel it out simultaneously on their computers.
To begin the match, users visit http://www.politicalpunchem.com and are prompted to select which political candidate they would like to play as, Donald Trump or Hillary Clinton. After a quick calibration, users' phones become the punching gloves and the on-screen candidates match the movements made with the phones. A health meter displays the health of each candidate based on the punches thrown and the winner is determined by KO at the end of the match.
On the inspiration for Political Punch 'Em, Chris Stegner, Partner at MAD Dev, explains, "We asked ourselves, 'How can we comment on how many Americans are feeling about the two presidential candidates?' and 'How can we inspire people to take action and vote?' The conversation lead to growing up with Rock'em Sock'em Robots, featuring two dueling robot boxers that became a pop culture phenomenon. It seemed like a natural progression into what we wanted to accomplish for the first MAD Lab experiment."
Experts are saying that the 2016 Presidential Election will be one of the closest races in history, and although Political Punch 'Em was created to entertain, it should also serve as a reminder to vote. "Your vote is your voice," says Denise Wissmann, Senior Art Director at MAD. "We as a country have struggled to give this right to all of our citizens, so even though we are poking fun at the political race, we want people to know that their vote matters."
MAD Lab is an internal idea incubator within MAD Studios, a full-service agency based in South Florida. Mad Lab curates, cultivates, and produces internal ideas conceptualized by its team that meet the following criteria: The project must utilize all departments of MAD Studios and push the caliber of creativity to new levels; the project must have the potential to capture an audience; and the project must be completed in 8 weeks.
To request an interview with the creators of politicalpunchem.com, please contact Melissa Sweredoski at melissas(at)madstudios(dot)net or 410.610.6321.
MAD Studios is a full-service creative agency. For more information, visit yeswearemad.com.