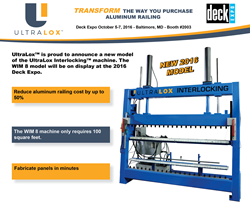 Edward Peterson, VP of Sales and Marketing states, "This isn't simply an update of an earlier design; instead, this innovation will change the market by transforming the way aluminum railing is purchased. "
Eagan Minnesota (PRWEB) September 29, 2016
Headquartered in Eagan, MN, UltraLox™ will be launching the WIM 8 UltraLox Interlocking™ machine at the Deck Expo October 5-7, 2016 - Baltimore, MD - Booth #2003. The Ultralox™ LOX8 machine has a very small footprint and along with a single 8' pallet rack of product, which will convert to 3,500 lineal feet of finished railing, ONLY requires 200 square feet. The UltraLox™ LOX8 contractors/builders who build 50 or more decks per year. By fabricating the railings in house, the contractor is able to reduce aluminum railing cost by up to 50%, reduce time on the jobsite and control lead times. The UltraLox™ railing system is cost effective with virtually no waste. The innovative panelized railing system can be assembled to exact size in seconds and is quickly installed at the project site.
Edward Peterson, VP of Sales and Marketing states, "This isn't simply an update of an earlier design; instead, this innovation will change the market by transforming the way aluminum railing is purchased."
About UltraLox™
The UltraLox Interlocking™ machines assemble railing and fence systems for use in multi-housing and residential decks, balconies, patios and pool surrounds.
UltraLox™ is a truly unique machine that fabricates aluminum, powder-coated railing components on demand. The interlocking components are then easily and quickly installed on the jobsite without any special tools, mechanical fasteners or welding. The structural, ICC-ES AC273-tested products can be produced in a variety of profiles, configurations and colors, providing exceptional aesthetics as well as industry-leading strength and reliability.
UltraLox™ eliminates the roadblocks that slow down railing projects. By dramatically reducing inventory costs, warehouse requirements, freight costs, and damage issues, UltraLox™ owners control the quality and delivery of railing for their customers. This is a transformative approach to producing railing, providing UltraLox™ owners with the ability to achieve levels of efficiency, customer service, and profitability above and beyond standard practice.
About the company
UltraLox™ is expanding its dealer base of large-volume deck builders, building product distributors, and fence companies throughout the United States and Canada.
The UltraLox™ combination of efficiency and quality has proven to be a winning formula for UltraLox™ partners. As more builders and suppliers become aware of the UltraLox™ potential and witness the success of UltraLox™ partners, interest and demand for this innovative technology is increasing rapidly throughout North America.
The long-term success of each customer is of primary importance to UltraLox™. Builders and suppliers who work with UltraLox™ experience an exceptional level of support. This support goes beyond the traditional customer service: companies working with UltraLox™ dealers become part of a strong and supportive network. This unified network helps companies focus to achieve business growth and maximize profitability.
HIGH-RES PHOTOS AVAILABLE UPON REQUEST.
Pre-Deck Expo show and show interviews with Mr. Peterson are also available upon request.
Media contact:
Mike McAllister
Telephone: 612-581-2184