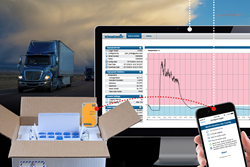 BOSTON AND BOURNE, MA, (PRWEB) September 28, 2016
Onset, a world leader in data loggers, is expanding the company's InTemp family of pharmaceutical cold chain management products with the launch of two new solutions: InTemp CX500 Series temperature loggers and the InTempConnect cloud-based data warehousing service. Together with Onset's proven CX400 Series loggers and InTemp mobile application, the solutions provide end-to-end visibility throughout the pharmaceutical supply chain—from the manufacturing plant, across distribution, to pharmacies, clinics and other healthcare facilities.
Bluetooth Low Energy (BLE) enabled InTemp CX500 Series loggers provide in-transit temperature monitoring—without the need to open boxes—to reduce temperature excursions and handling errors. The InTempConnect cloud-based data warehousing service enables command-center control over all logger deployments throughout the global supply chain. And like all InTemp products, the new solutions achieve 21 CFR Part 11 compliance, ensuring electronic records and electronic signatures are trustworthy and reliable.
The products are debuting at the 14th Cold Chain GDP & Temperature Management Logistics Global Forum, September 28 & 29 at the Hynes Convention Center in Boston. Attendees can view the complete InTemp product line at the Onset booth (#517).
Modernizing Pharmaceutical Cold Chain Monitoring
The InTemp product family provides a modern, affordable and highly-accessible alternative to manually-driven pharmaceutical cold chain monitoring solutions, which are susceptible to error. As a result, a range of organizations—pharmaceutical manufacturers, logistics and storage management providers across the distribution chain, hospitals and clinics, and clinical trials teams—can achieve greater accuracy while significantly reducing the demands on staff and resources.
Bluetooth-enabled InTemp data loggers offer a cost-effective alternative to global positioning system (GPS) based solutions and automatically transmit mission-critical temperature data to smartphones and tablets – without the need to risk compromising the environment by opening boxes or refrigeration units to access data.
Onset's free InTemp mobile app enables easy and efficient logger setup, reducing staff workload. Authorized users can easily view data from the loggers, check logger status, set alarms, and create and share secure PDF reports from their mobile devices. The app works with all Android and iOS mobile devices.
Reports from the InTemp mobile app can then be uploaded to a dedicated account on the cloud-based InTempConnect data warehousing service, where authorized users can manage and analyze data from a central location and make informed business decisions. Reports can also be integrated with ERP or business management systems.
"Today's temperature monitoring solutions have not kept pace with growing government and market pressures for pharmaceutical companies to validate the integrity of their products and gain tighter control over costs," said Paul Della Villa, product marketing manager for Onset. "Our expanded line of InTemp pharmaceutical cold chain monitoring solutions addresses that innovation gap by harnessing mobile and cloud technology to bring unprecedented ease of use, cost effectiveness, and comprehensive functionality to monitoring the entire distribution chain."
New InTemp CX500 Series In-Transit Loggers
BLE-enabled InTemp CX500 Series loggers transmit temperature data to mobile devices running the free InTemp mobile app. Three models are available: 15-day and 90-day models for one-time use, and a 365-day model for multiple uses. The loggers offer +/- 0.5C accuracy to provide reliable temperature readings in a compact and lightweight form factor. Additionally, the loggers meet National Institute of Standards and Technology (NIST) requirements for traceable calibration, ensuring companies can trust their data and make informed product-disposition decisions.
New InTempConnect Cloud-Based Data Warehousing Service
InTempConnect serves as a central command center for managing logger deployments across the pharmaceutical supply chain. Based in the cloud, it enables easy setup without any software investment, and companies can authorize access for a range of users at different points throughout the supply chain.
InTempConnect helps companies achieve 21 CFR Part 11 compliance by providing secure electronic records and simplifying the processes of managing data and passing regulatory audits, while ensuring product quality. The ability to auto-sync data from the InTemp mobile app means data is uploaded in real time from all logger deployments via mobile devices, giving centralized visibility into the global supply chain. Users can create and manage logger configuration profiles within InTempConnect and automatically sync them with mobile devices in the field, effectively providing a vehicle for two-way communications. Additionally, users can set up automated alerts for downloads and alarms, ensuring immediate notification of temperature excursions.
With InTempConnect, companies can:
Securely coordinate global logistics and quality teams.
Each InTempConnect account is automatically locked with an encrypted passkey, and only users designated by an administrator can connect to it, ensuring secure records.
Easily access global temperature data.
Users can view all of their data within InTempConnect, including deployment data, graphs of logged data, user activity, alarm information, and more. Additionally, users can generate secure PDF and XLSX format files for easy export, simplifying regulatory compliance.
Use trip information to drive supply chain analytics.
Users can quickly assign information, such as destination, product, or shipping methods from their mobile devices during logger deployments. Decision-makers then can review filtered trip and supply chain data, as well as view pertinent key performance indicator (KPI) reports instantly or at scheduled intervals.
Pricing and Availability
The InTemp CX500 Series loggers, InTemp CX400 Series loggers, and InTempConnect data warehousing service are available today. For information on pricing, visit http://www.onsetcomp.com/intemp. The free InTemp mobile app is available for Android at Google Apps for Work and iOS at Apple Mobile Enterprise Apps.
About Onset
Onset is a leading supplier of data loggers and monitoring solutions used to measure, record, and manage data for improving the environment and preserving the quality of temperature-sensitive products. Based on Cape Cod, Massachusetts, Onset has been designing and manufacturing its products on site since the company's founding in 1981. Visit Onset on the web at http://www.onsetcomp.com/intemp.
READER CONTACT
Onset
1-800-564-4377 / 508-759-9500
http://www.onsetcomp.com/intemp
sales(at)onsetcomp(dot)com