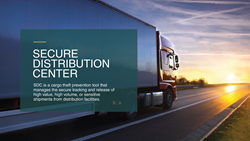 "Technology has been in use for decades in other areas of the supply chain, and this was one area that we found to be lacking," said CodeLynx President, Beth Heatley.
North Charleston, South Carolina (PRWEB) September 29, 2016
CodeLynx, a Software Engineering, Electronic Security and Audio/Visual integrator, debuted a cargo theft prevention tool, Secure Distribution Center (SDC), at the ASIS International 62nd Annual Seminar in Orlando, Florida last week. SDC is geared towards companies that need to secure high value, high volume, or sensitive items as they flow through the supply chain.
CodeLynx launched SDC as a security logistics tool that will alter the way distribution facilities handle their cargo. Security has become an ever-present issue in supply chain management, with $30 Billion in cargo stolen each year. SDC addresses these issues through driver and cargo authentication, internal and external visibility for managers, as well as data consolidation for auditing purposes. By securing companies' cargo and profiling who is allowed into a facility, SDC will lower costs and make the flow of goods into facilities more efficient.
SDC is also a tool that will simplify security in Supply Chain Management and will make for a more effective and secure way of handling cargo within a warehouse or distribution facility. The user-friendly tool is geared towards members of the cross-functional team, including the Organizational Manager, Facility Manager, Distribution office staff, Entry and Exit Gate personnel.
Each user role will benefit from Secure Distribution Center in a variety of ways. Organizational Managers will receive complete visibility of multiple internal and external sites. Immediate security alerts and loss prevention will make validation and risk management easy for the Facility Manager. The Distribution Office Manager will see performance improve with the incoming and outgoing flow of goods. Lastly, with SDC, the entry and exit gate guards will be protected from exploitation, and eliminate the risk of unauthorized access into the facility.
Secure Distribution Center is the perfect example of how CodeLynx has been able to deliver in a variety of sectors, and is the beginning of CodeLynx's evolution of secure solutions for companies. For more information on the product, please email Julia(dot)Loesch(dot)codelynx(dot)com .
About CodeLynx
CodeLynx LLC is a software engineering and electronic security services provider based in Charleston, South Carolina. A Women-Owned Small Business (WOSB), CodeLynx has been providing custom software solutions, web development, and a wide range of electronic security and audio visual services for both government and commercial customers since 2003. CodeLynx has been recognized as one of the 20 Best-Performing small companies in South Carolina by SC Biz News in both 2014 and 2015, and has also been named to the Inc. 500|5000 List of America's Fastest-Growing Private Companies for the past four consecutive years. To learn more, visit http://www.codelynx.com.
####
Press Contact: Amber Kemp
Amber(dot)Kemp(at)codelynx(dot)com
843.266.2330 ext. 325