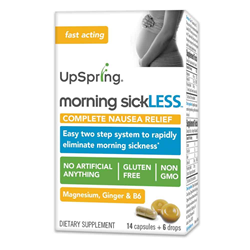 Morning SickLess contains micronized ingredients including magnesium, ginger and vitamin B6 to help rapidly eliminate nausea for expectant mothers.
Austin, TX (PRWEB) October 04, 2016
Forget the saltine crackers; now pregnant women suffering from morning sickness have a new all natural, drug free option to end nausea. UpSpring has launched the Morning SickLess™ Nausea Relief Kit to eliminate morning sickness and nausea for expectant mothers.* This new product marks the first prenatal offering for the consumer goods company which has been producing innovative health and wellness products for moms and babies for more than 10 years.
The Morning SickLess Kit includes capsules and drops contain nutrients and botanicals to soothe and eliminate morning sickness naturally.* Morning SickLess capsules address and eliminate the underlying cause of morning sickness.* Morning SickLess drops quickly address symptoms while capsules go to work to address and eliminate the root cause of morning sickness.*
One of the leading causes of morning sickness is a drop in magnesium levels. Morning SickLess capsules contain micronized magnesium, along with micronized ginger and vitamin B6, which all help address and eliminate the causes of morning sickness.* Micronization reduces the particle size, making each ingredient more easily and more quickly absorbed. This means mom gets a faster, more effective boost to her magnesium levels, so she can start feeling better sooner.*
Morning SickLess lemon-ginger flavored drops provide fast relief from nausea and contain micronized ginger, lemon, spearmint and vitamin B6. Drops can be used as needed for occasional nausea, constipation and gas throughout pregnancy.*
"Up to 75 percent of all expectant women will experience some type of morning sickness throughout their pregnancy. UpSpring is thrilled to bring this new drug free alternative to market and help new moms end the suffering that can be caused from morning sickness," said Lisa Rowe, co-founder and CEO of UpSpring. "What makes Morning SickLess unique is the combination of the our proven proprietary blend that features micronized, natural ingredients to not only address symptoms but eliminate them."
Morning SickLess is all natural and drug free with no artificial ingredients, GMOs and gluten-free.
Morning SickLess retails for $24.99 at http://www.UpSpringBaby.com and Amazon. Launching at buybuy Baby in November and other national retailers in January 2017.