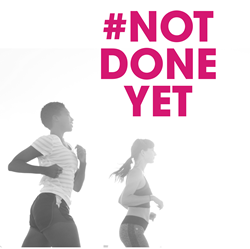 The #NotDoneYet campaign is focused on inspiring women to take action, not just generating awareness during Breast Cancer Awareness Month. We hope women all over the country will join Bright Pink in declaring we're #NotDoneYet.
Chicago, Illinois (PRWEB) September 29, 2016
Today, Bright Pink, a national breast and ovarian health non-profit organization, is putting a proactive spin on National Breast Cancer Awareness Month by officially announcing their #NotDoneYet campaign.
The campaign reflects on the fact that women today are empowered to succeed— they lead, create, invent, win gold medals, shatter glass ceilings, and more. However, with so much left to be done when it comes to the prevention and early detection of breast and ovarian cancer, we are Not Done Yet.
"With awareness messaging at high volume during the month of October, one could get the sense that the box is checked when it comes to breast cancer. But with women still dying from breast and ovarian cancer, the work is not done yet," said Lindsay Avner, Bright Pink founder and CEO. "Our campaign is designed to get women talking about breast and ovarian health in a positive, proactive, action-oriented way."
AXA, a leading financial protection company, is the exclusive partner for the campaign, helping to advance the conversation. This October, AXA will donate $1 (up to $15,000) to Bright Pink for every post on Instagram, Twitter and Facebook using the hashtag #NotDoneYet.
"AXA is committed to helping women reach their financial goals, but we are not done yet," said Faith Frank, president of the AXA Foundation. "We're excited to join Bright Pink and empower women to take control of both their physical and financial health."
To further generate engagement, Twitter has collaborated with Bright Pink to donate a branded emoji to support the #NotDoneYet campaign. From September 28 to October 31, every time the hashtags #NotDoneYet and #BrightPink are Tweeted, a specially designed emoji of a pink bra will appear.
"This is a campaign focused on inspiring women to take action, not just generating awareness," continued Avner. "We hope women all over the country will join us in declaring we're #NotDoneYet and go on to make use of our digital resources, including AssessYourRisk.org and ExploreYourGenetics.org."
Women can take action with their health by using Bright Pink's digital resources:

Sign up for monthly Breast Health Reminders™ to monitor your breast health by texting PINK to 59227 and confirm with Y (Message and data rates may apply.
Complete a risk assessment AssessYourRisk.org to know your risk and take action
Visit ExploreYourGenetics.org to learn more and take action.
Additional highlights of the campaign include:
On Wednesday September 28th, Bright Pink launched the official hashtag #NotDoneYet across Bright Pink's social media channels. Women are encouraged to post a picture of a favorite personal accomplishment with the caption, "This is my greatest achievement. But I'm #NotDoneYet. Not while women are still dying from breast & ovarian cancer. I'm joining @BrightPink to make a change. Visit BrightPink.org/NotDoneYet to take action for your health!"
Advertisement takeover on Chicago's public transportation system (CTA).
Opportunity for Facebook and Twitter users to add #NotDoneYet to their profile pictures.
Invitation to all supporters and influencers to share the message and start a conversation about being proactive with their breast and ovarian health.
Giving women actionable resources to take the next step with their breast and ovarian health at Bright Pink's landing page BrightPink.org/NotDoneYet
About Bright Pink®
Bright Pink is a national non-profit focused on the prevention and early detection of breast and ovarian cancer in young women. The organization's mission is to save women's lives from breast and ovarian cancer by empowering them to live proactively at a young age. Bright Pink's innovative programs educate and equip young women to assess their risk for breast and ovarian cancer, reduce their risk, and detect these diseases at early, non life-threatening stages. Recently launched, ExploreYourGenetics.org, provides women comprehensive information about genetic testing and breast and ovarian cancer-influencing mutations. Founded in 2007, Bright Pink strives to reach the 52 million women in the US between the ages of 18-45 with this life-saving education. Put Awareness In Action™ at BrightPink.org.
About AXA
"AXA" is a brand name of AXA Equitable Financial Services, LLC and its family of companies, including AXA Equitable Life Insurance Company (NY, NY), MONY Life Insurance Company of America (AZ stock company, administrative office: Jersey City, NJ), AXA Advisors, LLC, and AXA Distributors, LLC. In business since 1859, AXA Equitable Life Insurance Company is a leading financial protection company and one of the nation's premier providers of life insurance and annuity products distributed to individuals and business owners through its retail distribution channel, AXA Advisors, LLC (member FINRA, SIPC) and to the financial services market through its wholesale distribution channel, AXA Distributors, LLC (member FINRA, SIPC).
AXA is a part of the global AXA S.A. (also referred to as "AXA Group"), a Paris-headquartered holding company for a group of international insurance and financial services companies. The obligations of AXA Equitable Life Insurance Company and MONY Life Insurance Company of America are backed solely by their claims-paying ability. Find AXA on Facebook, Twitter and LinkedIn. For more information, visit http://www.axa.com. GE-119417(09/16)(Exp.09/18)