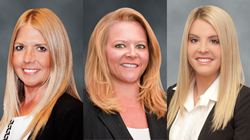 (PRWEB) October 04, 2016
National Roofing Partners (NRP), Dallas, Texas, the leading network of commercial roofing contractors in North America, is proud to announce three NRP finalists in the 2016 Dallas Admin Awards. Finalists were announced this week in nine different award categories, all celebrating administrative excellence.
NRP continues to value strong leadership and employee engagement. With hundreds of nominations submitted annually, it is impressive to have three NRP professionals recognized. Dallas area administrative professionals compete in the various award categories which are reviewed and evaluated by an independent panel of judges who selects the finalists and winners in each category. National Roofing Partners is proud of its three finalists this year, in their respective award categories.
The Above the Call Receptionist Award

Linda Gennette, Receptionist, Second Year to be a finalist
The Leadership Award

Kim Baxter, Business Operations Manager, Second Year to be a finalist, Third year to be nominated
The Rookie of the Year Award

Chelsea Henderson, Sales Administrator/National Account Manager
The Admin Awards, founded in 2012 by Sunny Nunan, is a unique program that publicly recognizes the invaluable contributions of Administrative Professionals. To be considered for an Admin Award, nominees must be currently serving in an administrative role for companies within the Dallas Area, having been nominated by supervisors, coworkers or anyone that's witnessed the outstanding work of these administrative professionals.
Winners will be announced at The Admin Awards luncheon, on Monday, Oct. 24th, which draws around 500 area business leaders who attend to cheer on their administrative staff while celebrating their accomplishments and service. Besides Dallas, award ceremonies are also held in Fort Worth, Silicon Valley, Denver and soon, Houston.
About National Roofing Partners
National Roofing Partners (NRP) was founded with the mission of continually improving the facility management capabilities of its customers by analyzing existing roof conditions, recommending and providing high quality single-source roofing replacements and services with dedicated support. Building on the strong expertise of tier one commercial roofing contractors with over 120+ service locations and 8,000 employees nationwide, the network provides exceptional roofing and building envelope service and maintenance for customers. For more information, visit http://www.nationalroofingpartners.com.