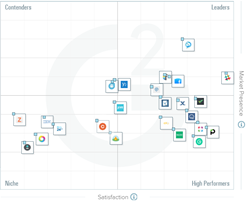 Chicago (PRWEB) September 29, 2016
G2 Crowd, the world's leading business software review platform, today released the Fall 2016 Team Collaboration Software Grid report to help businesses make the best team collaboration technology decision. Slack, Cisco Jabber for Windows, Facebook at Work, Flowdock, Podio, and Smartsheet were named Leaders in the report, receiving a strong customer satisfaction score with a large market presence.
Wrike, Confluence, Paymo, HipChat, Samepage, Guru, Igloo, and eXo Platform were named High Performers in the report, earning strong customer satisfaction marks with smaller market presence scores. Slack earned the highest overall satisfaction score, while Cisco Jabber for Windows earned the highest overall market presence score.
The Grid leverages customer satisfaction data reported by authenticated users along with vendor market presence determined from social and public data. Based on a combination of these scores, each software solution is categorized as a Leader, High Performer, Contender or Niche.
Key Findings:

New kids on the block — The Fall 2016 Team Collaboration Grid℠ report is ripe with new products. There are eight new platforms with enough reviews to be included on the Grid℠ since the Spring 2016 Team Collaboration Grid℠ Report, increasing the number of featured products by nearly 50 percent.
Interface "make or break" — An easy-to-navigate and visually appealing interface was a common mention in positive user reviews of team collaboration products. Reviewers spoke highly of products that had "personality" and a low barrier to entry. On the other hand, negative comments gave a lot of weight to user interface, and this was a make-or-break characteristic for a number of users.
Division over usefulness — Many users across several team collaboration products had mixed feelings about the role of these platforms in their personal business. Some felt that these products lacked sufficient features to distinguish them from social media. A number of reviews also said that these discussion platforms become obsolete if nobody uses them and, conversely, the overuse of these products can dilute their importance and bury relevant conversations under too much chatter.
About the Team Collaboration Software Grid report:

The report is based on more than 1,820 reviews written by business professionals.
Of the 148 products listed in G2 Crowd's Team Collaboration category, the ranked products each received ten or more reviews to qualify for inclusion on the Grid.
About G2 Crowd, Inc.
G2 Crowd, the world's leading business software review platform, leverages more than 100,000 user reviews to drive better purchasing decisions. Technology buyers, investors, and analysts use the site to compare and select the best software based on peer reviews and synthesized social data. Monthly more than a half-million people visit G2 Crowd's site. Co-founded by the founder and former executives from SaaS leader BigMachines and backed by roughly $12 million in capital, G2 Crowd aims to bring authenticity and transparency to business technology research. For more information, go to G2Crowd.com.