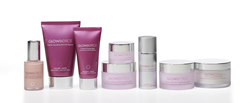 Phoenix, AZ (PRWEB) September 29, 2016
"No matter which stage or phase a woman is going through in her life, she deserves to have skincare products that are effective, safe and make her feel good about herself. This is one of the main reasons we started the GLOWBIOTICS skincare line," says co-founder Christine Watson. "There are so many skincare products on the market that contain chemicals, unhealthy ingredients that can cause inflammation, all of which are damaging to our skin and health. Our probiotic technology can actually rebuild the health of the skin and reverse inflammation, which is the root cause of all chronic skin conditions that plague us including aging, acne, sensitivity and more. We were adamant about creating a medically and scientifically validated skincare line formulating products with a powerful blend of probiotics, antioxidants, botanicals and vitamins to nurture and heal the skin from the inside out. GLOWBIOTICS is the perfect skincare line for women that want effective skincare products that don't cause stress or inflammation to skin."
The brand's launch will feature 8 inaugural skincare products:
The Probiotic HydraGlow Cream Oil is a complexion-enhancing emulsion fortified with a proprietary balancing complex, abyssianian seed oil and shea milk that hydrates and transforms dull, aging skin into a dewy, firm complexion that glows.
The Probiotic Instant Resurfacing Pads are clinical-strength exfoliating pads that help instantly create the appearance of more youthful skin with fewer fine lines, wrinkles, age spots and pores.
The Probiotic Nourishing Gel to Oil Cleanser is a transformative cleanser that melts away impurities, makeup and excess surface oil while deeply purifying and hydrating dull, lackluster skin.
The Retinol Anti-Aging + Brightening Treatment is a multi-tasking serum that utilizes a powerful combination of retinol boosters, vitamins and peptides to brighten and rejuvenate dull, aging skin.
The Anti-Wrinkle Illuminating Eye Cream instantly brightens, tightens and transforms the look of tired, puffy eyes while a blend of reflective minerals helps diffuse light to reduce the appearance of dark circles, fine lines and wrinkles.
The Instant Refreshing Gel Hydrator is a refreshing, lightweight gel hydrator that helps soothe dry, irritated skin while providing cooling moisture for a complexion that is smooth and supple.
The Skin Perfection Hydrating Lotion is a luxurious daily lotion infused with probiotics, essential fatty acids and targeted peptides to help combat premature aging and free-radical assault while leaving skin hydrated with a youthful glow.
The Probiotic Ultra Rich Brightening Cream is a deeply moisturizing and regenerative cream, rich in phospholipids, brightening agents and probiotics that leaves skin feeling hydrated, firm and visibly radiant.
GLOWBIOTICS Director of Education, Daniel Clary, will be onsite to showcase the brand at Beyond Beauty in Knightsbridge from Oct. 2 – Oct. 8, 2016.
The products will also be available for sale on the company website, http://www.glowbiotics.com, which will launch in October.
About GLOWBIOTICS
From the founders of iconic brands BioMedic® and philosophy®, GLOWBIOTICS is a probiotic skincare brand created for the enlightened woman who cares about her overall health; inside and out. The powerful skincare products are infused with healing probiotics and scientifically-backed ingredients that address a multitude of skin concerns and give all skin types a healthy, youthful glow. GLOWBIOTICS is a company that believes in clean, safe, healthy formulas and ingredients for women in all stages of life. The brand strives to create products that are free of any known phthalates, sulfates, FD&C dyes, parabens and mineral oil, and they never test on animals. The company also donates 1% of sales to mental health charities, as they not only want people to look good, but also feel good from the inside out.
About Harvey Nichols
Since Harvey Nichols first opened in Knightsbridge in 1831, it has led the way in sourcing the most desirable and cutting-edge designer brands. Recognised as the UK's premier luxury fashion retailer, Harvey Nichols is internationally renowned for its expertly edited fashion and beauty merchandise, premium food and wine offer and award-winning restaurants. Harvey Nichols has seven stores within the UK and Ireland, consisting of five large-format stores in London, Edinburgh, Birmingham, Leeds and Manchester, and two small-format stores in Bristol and Dublin. A beauty concept store, Beauty Bazaar, Harvey Nichols, opened in Liverpool in November 2012. Exclusive, niche and established labels sit alongside accessible everyday collections, offering customers the must-have edit for all their wardrobe needs – from everyday to extraordinary.