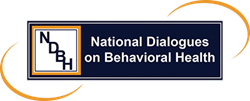 The conference is designed for psychiatrists, social workers, nurses, psychologists, counselors, case managers, policy makers, behavioral health care providers judiciary justice system administrators and law enforcement.
New Orleans, LA (PRWEB) October 01, 2016
Behavioral Health News/Upcoming Conference October 23-26
National Dialogues on Behavioral Health Conference
Scheduled on October 23-26 in New Orleans;
Discussion to Focus on Building Resilience in Mental Health
The 57th National Dialogues on Behavioral Health's (NDBH) annual conference will be held in New Orleans, Louisiana at the Renaissance Arts Hotel from October 23-26, 2016. The conference theme is "Promoting Individual, Family and Community Mental Wellness and Resilience."
The focus of the conference is to identify short- and long-term solutions to maintaining mental wellness by applying research-based approaches for communities and across the lifespan of individuals and their families.
The conference is designed for psychiatrists, social workers, nurses, psychologists, counselors, addiction counselors, case managers, administrators, policy makers, behavioral healthcare providers, state/county behavioral healthcare administrators, members of the judiciary justice system administrators, law enforcement/justice system stakeholders. It is also designed for police officers, sheriff departments, emergency/disaster response professionals, Homeland Security officials, educators, and school based counselors.
A few of the topics at the conference are: What is Resilience?; Building Resilience: Mental Health Promotion and Prevention; Challenges and Building Resiliency Over the Lifespan; Specific Interventions Used to Build Resilience; The Role of the Media; and, How Breakthroughs in Neuroscience Contribute to Therapeutic Behavioral Approaches.
"Mental health experts are frequently called upon at the time of a crisis to diagnose and treat a problem, but rarely are they preemptively sought out to use their knowledge to "inoculate" individuals, families and communities, to protect and preserve community safety and mental wellness. It is time to change this illness/disease-based approach by preemptively applying therapeutic interventions commonly used after traumatic events, and the new knowledge from the fast emerging sciences of resilience and brain development/ neuro-plasticity. We can, and need to, establish a focus on better preparing individuals, the family unit and communities to face challenges to their emotional and mental wellness," said NDBH President Jan Kasofsky, Ph.D.
National Dialogues on Behavioral Health remains the oldest ongoing annual conference on mental health and substance abuse in the United States.
Conference registration, speakers, and the agenda can be accessed at nationaldialoguesbh.org. Early registration ends October 3.
For more Information: Call Jan Kasofsky, Ph.D., 225-922-2700 or Angela deGravelles , 225-202-5073
#####