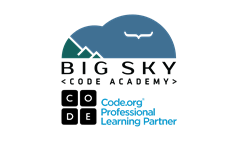 "Computer Science is a liberal art: it's something that everybody should be exposed to and everyone should have a mastery of to some extent." — Steve Jobs
Missoula, MT (PRWEB) October 03, 2016
Big Sky Code Academy is proud to announce that it has been selected as a Code.org Professional Learning Partner, and will be the designated provider of Code.org Professional Learning Programs in Montana. Big Sky Code Academy will provide quality professional development to educators through local district partnerships with Code.org and act as a regional hub of the global computer science education movement.
Big Sky Code Academy also participated in a regional partner convening for computer science education hosted by the White House Office of Science and Technology Policy on September 26, 2016. Big Sky Code Academy gathered at the White House with more than 40 other regional organizations from around the country dedicated to preparing computer science teachers for K-12 classrooms and promoting the adoption of high-quality computer science courses. The event was planned to coincide with the start of the academic year in the US.
Discussion topics at the event included: the current state of computer science K-12 education, the importance of establishing regional partners around the nation dedicated to building computer science communities, and why many organizations are dedicated to supporting, advocating for and funding work in this area.
According to the College Board, zero students in Montana took the AP Computer Science exam in 2015.
"We are excited to have been selected as a Code.org Professional Learning Partner and look forward to bringing more opportunities to teach computer science to our K-12 educators." said Devin B. Holmes, Big Sky Code Academy Founder. "This partnership adds a critical element to our initiatives to bring computer science education to all Montanans. By bringing Code.org curriculum to teachers and schools statewide, we will be able to better prepare Montana's K-12 students for jobs of the future."
To learn more about Code.org's Professional Learning Partner program, visit: https://code.org/educate/professional-learning-partner
About Big Sky Code Academy™
The Big Sky Code Academy is an accelerated coding boot camp offering online and on-site immersive training for the next generation of software developers. Designed to enable and empower all Montanans, the Academy launched two initiatives in early 2016, Montana Code Girls™, and Code4Philanthropy™. Montana Code Girls offers events, after-school programs and summer camps to Montana's girls and young women interested in technology. The Code4Philanthropy Fellowship allows service-oriented young adults to attend the Academy a no cost in exchange for serving for a year in the program where they are placed with nonprofits across the state for a 12-month technology fellowship. To learn more, visit: bigskycodeacademy.org
###