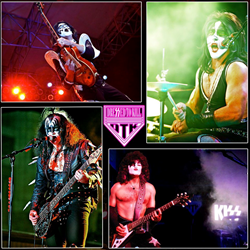 Duncan, OK (PRWEB) October 20, 2016
CTAC Live, through the generous support of Duncan Regional Hospital, Chisholm Trail Arts Council is pleased to present Dressed to Kill, a KISS tribute band, is based out of Tulsa, OK. DTK is considered by many as one of the best KISS cover bands around.
Formed in 2005, Dressed to Kill is one of the nation's premier KISS tribute bands featuring Thad Timothy as Paul Stanley, Mickie Knight as Ace Frehley, Joe Hillenburg as Peter Criss, and Gregg Shipman as Gene Simmons.
DTK has performed with Bruce Kulick, long time lead guitar player of KISS at the Kansas City KISS Expo and have been featured performers at numerous prestigious regional evets such as Rocklahoma, The Tulsa State Fair, Kansas' Neewollah Festival, several Motorcycle rallies and dozens of excellent historical venues. Among these, DTK has been a headline performer at the legendary Cain's Ballroom in Tulsa, OK on three separate occasions.
DTK has played multiple shows for crowds of thousands, and has been a frequent entertainment partner with outstanding regional charities such as Turn Tulsa Pink, Cancer Sucks, Make A Wish, and A Soldier's Wish.
Entering in their second decade as a KISS tribute band, DTK brings the big show to the local stage for an intimate KISS experience you can't get in an arena. See why KISS fans have for years claimed that DTK is the next best thing to the real thing. They are KISS fans too, and their attention to details is what sets them apart. The iconic characters as well as faithful reproduction of the music and show elements will come to life in a blistering, classic KISS style rock and roll party when DTK takes the stage.
You wanted the best? You got the best.
Please join us Friday, October 28th for a night of rock and roll! For presale tickets, please contact 580-252-4160 or visit http://www.chisholmtrailarts.com for more information. The box office opens at 6:30pm with the performance beginning at 7:30 pm at the Simmons Center in Duncan, OK.