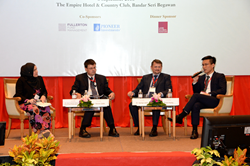 "Fintech industry has huge business potential. With Chinese government support on regulations, Chinese people are confident to participate and invest in this industry.
New York, NY (PRWEB) September 30, 2016
Madai Wealth's 12th Brunei Roundtable Conference was successfully held on September 6, 2016 in China. The conference topic is "Capital Markets: Determining Growth Drivers." More than 150 government officials from Brunei and other countries, financial experts, and entrepreneurs shared the latest Asian economical financial updates and analysis.
"The Fintech industry's growth is rapid and strong." Bruce Huang, CEO of Madai Wealth, said, "With the government's support in the industry through new online loan regulation rules, people are confident in participating and investing in Fintech. The industry has huge business potential."
Mr. Huang illustrates that the Fintech will transform the financial services industry as technology has reshaped other industries. There are huge businesses opportunities can be explored. Within the past 5 years, it has grown 10 times in size from 1.8 billion to 19 billion. Fintech products such as mobile payment, peer to peer (P2P) loans, and Robo-advisors will establish a new type of customer relationship in financial services by offering increased connectivity, security, and independence from traditional banking. By 2023, Fintech industry expects to take away 17% of profits from the banking sector. A recently frequently mentioned technology keyword "block chain technology," which encrypts all digital information from electronic money, online signatures, to voting systems. Block chain technology has the capabilities to be implemented in various industries, but is expected to be the most valuable to the world trade system. Fintech is well-received in the socio-political and economic conditions in China. The Chinese government has shown continuous support for the development of Fintech. Stated in the August 24, "Interim Measures for the Administration of Business Activities of Online Lending Information Agency," the government formally recognized the legitimacy of the online lending industry and its enthusiasm to promote the development of it.
Bruce Huang concludes that Fintech plays an important role in the market. In emerging market countries like China, it reinvents the traditional financial sector while in developed countries such as America, it promotes the evolution of the traditional financial sector. The Chinese traditional financial sector and financial technology companies must establish cooperative relationships, meanwhile in America, large investment banks are more likely to start their own technology companies. Although there is this difference, it is clear that Fintech will be integrated into traditional finance. Therefore, the financial future is technology-driven.
About Maidai Wealth
Madai Wealth is an Internet financial services platform invested by controlling shareholder CITIC Private Equity Funds Management, and is operated comprehensively by Shanghai Kaian Information Technology Co., LTD. Depending on advanced technology, extensive range of financial products and a strict risk control system, Madai Wealth provides a fast and professional money demand solution for borrowers, attractive investment opportunity for investors, and offers safe, efficient and reliable Internet financial services.
About CITIC Private Equity Funds Management Co., Ltd.
CITIC Private Equity Funds Management Co., Ltd ("CITIC PE") was founded in June 2008, following approval by the National Development and Reform Commission of the PRC. With a paid-in capital of RMB2.3 billion, CITIC PE gained support from multiple shareholders including CITIC Securities. CITIC PE adheres to a strategic vision of "becoming one of the most trustworthy world-class fund management partners", and is committed to identifying and improving the value of portfolio companies, creating superior returns for fund investors, and achieving multi-win cooperation through in-depth industry research, precise investment decisions, efficient operation management, professional value creation services, and sustained consolidations through mergers and acquisitions.