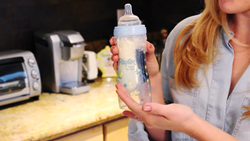 Moms can prevent tooth decay before it starts!
Tucson, AZ (3rd October 2016) (PRWEB) October 03, 2016
The team at Drink-N-Rinse has unveiled their new innovative product, a dual chambered baby bottle liner that automatically rinses the baby's mouth after drinking liquids. Research studies show that 76% infants will have tooth decay and 95% will have plaque by the time they are 2.5 years old. This new baby bottle liner has been patented in the U.S. and designed to prevent childhood cavities by automatically rinsing the mouth with water.
Bottle-fed infants are vulnerable to tooth decay, which is triggered because babies aren't able to rinse their mouths after drinking from a bottle. Sometimes, babies go to sleep with a bottle, and this can lead to a bacterial effect within the mouth that leads to tooth decay.
The Drink-N-Rinse baby bottle liner is a double-chambered disposable liner. The larger side is filled with formula, and the smaller side is filled with water. The smaller chamber is where Xylitol is added, which fuses with water. Once the formula is emptied from the bottle, the water and Xylitol are sucked out and rinse the baby's teeth. This makes Drink-N-Rinse the simplest, most effective solution for preventing tooth decay in infants.
Research has proven that bottle-fed children between the ages of 6 months and 5 years are the most susceptible to tooth decay. The Drink-N-Rinse system enables parents to protect the dental health of their babies and infants.
Sharon Snyder, the CEO and inventor of the bottle liner for Drink-N-Rinse, says, "As a young busy mother running my own business, I needed an easy disposable solution to protect my baby's teeth after drinking formula at 8 months old. I tried using two bottles, one formula and water, but he would either fall asleep or get fussy with water after I pulled the formula bottle out of his mouth. I got to work and designed a solution for this problem, but not until years later applied for a patent that was approved in 14 months. Unfortunately, infant and childhood cavities are now a silent epidemic in the US. Thanks to Dr. Milgrom's research with Xylitol, he has shown a 77% reduction in cavities. The DrinkNRinse bottle liner is an easy delivery system for Xylitol. I hope we will see a day where infants no longer need teeth replaced with metal pegs or require anesthesia before the age of 8 for dental work."
This new category of bottle not only feeds your infant, it's dual purpose is to feed and protect your baby's teeth. Moms who have tested this liner have come up with several other ideas, including adding Tylenol and antibiotics to the water chamber.
Drink-N-Rinse baby bottle liner is easy to use with formula and water.
For more information or to schedule an interview call, 844-544-8864 or visit our website:
http://www.drinknrinse.com