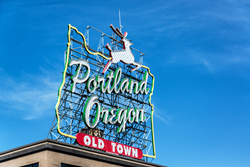 New York, NY (PRWEB) October 03, 2016
Resonance, a global travel and tourism consultancy whose strategy, research and branding help cities shape their future, will now help Portland, Oregon, plan theirs.
"We are honored to be chosen by Travel Portland to help one of America's truly unique destinations develop their tourism plan for the future," says Resonance president Chris Fair. "Our expertise in developing collaborative, stakeholder-driven strategies for sustainable tourism and travel growth is a perfect fit with the City of Portland's goal of maintaining a livable city while continuing to attract visitors to the city as a unique destination."
"Travel Portland is dedicated to the development of thoughtful plans that contribute to the sustainable tourism growth and overall livability of our city," said Jeff Miller, president and CEO of Travel Portland. "Our goal through this partnership with Resonance is to lay the groundwork for a future that maintains both our resident appeal as well as the appeal for visitors seeking a unique destination."
Fair says the holistic approach at Resonance creates powerful strategies focused on the visitors of the future and quality of life for local residents.
"Resonance's innovative approach to analyzing destinations based on the analysis of millions of online reviews provides destinations with a clear picture of both the quantity and quality of experiences offered and the destination's relative strengths or weaknesses vis-a-vis its competition," he says.
The unique, data-based methodology is increasingly in demand by destination managers who need to invest in brand development that's tied directly to visitor interests, desires and reviews of their experiences.
Resonance recently produced destination development and branding strategies for Tulsa, Oklahoma, and Cincinnati, Ohio. The consultancy is also working in Bellevue, Washington, and Snohomish County, Washington.
ABOUT RESONANCE CONSULTANCY
Resonance Consultancy creates tourism development strategies, plans and brands that shape the future of places around the world. The firm provides leading public and private sector organizations with research, strategic planning, development strategy and branding to help realize the full potential of developments, destinations and communities. To learn more about Resonance Consultancy, visit http://www.resonanceco.com.