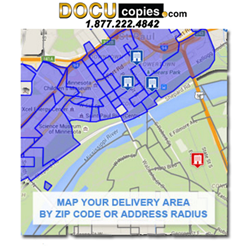 "The USPS is far from obsolete, and the proof is in the printing."
San Luis Obispo, California (PRWEB) September 30, 2016
The online digital-printing company DocuCopies.com is excited to announce that their totals for jobs which contain bulk mailing or Every-Door Direct Mailing (EDDM) services have doubled, bringing them as much business in the last three months as they got in the first six.
Most of this has occurred since August, when the discount color printing and book binding company began offering full-service EDDM for postcards. Their custom-built postcard order form allows people to graphically select entire ZIP codes and/or individual mail routes to target on a map. Their First and Third Class Mailing services are also highlighted for more traditional direct mailing.
This coincided with their West Coast facility registering a bulk mailing permit which also allowed them to expand their geographic emphasis and delivery speed for First Class and Third Class self-mailers, envelopes and other printing products. Previously, jobs requiring mailing had to be completed in Wisconsin.
"We expected growth but it's a great surprise to see it take off so quickly," says Jeff Corbo, the company's vice president and marketing director. "The United States Postal Service is far from obsolete, and the proof is in the printing."
Indeed there has been much discussion about the USPS and their role in the future of parcel delivery, as private companies like UPS and FedEx have worked to undercut their prices and services with great success.
This has spurred the postal service to hone in and expand on their specialties, and direct marketing has always been one of their strengths. EDDM is a great option for locally focused businesses like Realtors and restaurants to target and hit every address in their area without mailing lists, and at a fraction of the cost of traditional bulk mailing. But First and Third Class Mailing is still a great option for marketers with their own mailing lists or client databases.
For more information on DocuCopies.com and their color printing services, including EDDM, bulk mailing and book binding, visit them online at http://www.DocuCopies.com.