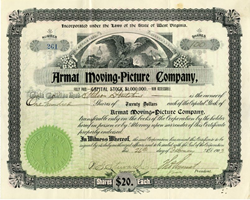 This company played an important role in the development of motion picture industry.
Fairfax, Virginia (PRWEB) October 03, 2016
Scripophily.com is offering a an historic uncancelled stock certificate from the Armat Moving Picture Company issued in 1903. This early motion picture certificate has an ornate border around it with an image of the company's name and an eagle. This item has the signatures of the company's Founder, Thomas J. Armat and its Secretary. This is the earliest motion picture company certificate we have had for sale. The certificate was issued to Stilson Hutchins and signed by him on the verso. Hutchins was best known as the founder of the Washington Post.
Vitascope, was a motion-picture projector patented by Thomas Armat in 1895. It's principal features are retained in the modern projector which include sprocketed film operated with a mechanism (the "Maltese cross") to stop each frame briefly before the lens, and a loop in the film to ease the strain. The Vitascope was adopted by Thomas A. Edison to project his Kinetoscope films, leading first to the Nickelodeon theatre and soon to the full-length motion picture.
Thomas J. Armat (25 October 1866 – September 30, 1948) was an American mechanic and inventor, a pioneer of cinema best known through the co-invention of the Edison Vitascope.
Stilson Hutchins (1838 - 1912) was an American newspaper reporter and publisher, best known as founder of the Washington Post.
Scripophily is also offering a certificate from the Palisades of the Potomac Land Improvement Company issued to the founder of Washington Post, Stilson Hutchins in 1895. The company was involved with large home subdivisions. They planned it as an expensive suburb with homes of the type then being build on the Hudson above New York and built several large Victorian houses. Stilson Hutchins' home was at the present site of the Army Map Service. Glen Echo Park was also located in the Palisades of the Potomac area.
Scripophily (scrip-ah-fil-ly) is the name of the hobby of collecting old stock and bond certificates. Certificate values range from a few dollars to more than $500,000 for the most unique and rare items. Tens of thousands of Scripophily buyers worldwide include casual collectors, corporate archives, business executives, museums and serious collectors. Due to the computer age, more and more stock and bonds are issued electronically which means fewer paper certificates are being issued. As a result, demand for paper certificates is increasing while supply is decreasing.
Scripophily.com - The Gift of History is the Internet's leading buyer and seller of collectible stock and bond certificates and have items on loan for display in the Smithsonian's Museum of Financial History in New York. Our company has been featured on CNBC, USA Today, Associated Press, Reuters, Nightline, Today Show, Baltimore Sun, and Washington Post and in many other media publications. The company also offers the World's #1 old stock research service at OldCompany.com and offers high resolution scans for publications. Scripophily.com has over 17,500 selections on its website.
Scripophily.com / Old Company Research Service, founding member of the Old Stock Exchange, is the successor company to all material published by the Marvyn Scudders Manuals, the Robert D. Fisher Manuals, R.M. Smythe Stock Research Service, and the Herzog & Co., Inc. obsolete research services. These services have been performed continuously for over 136 years since 1880.
Scripophily.com and Old Company Research Services was founded by Bob Kerstein (Bob.com). Bob is a CPA and CGMA, and has more than 39 years of senior management experience in the Cellular, Cable TV, Satellite, Internet, Professional Sports and Entertainment Industries. Bob is also the President of the Professional Scripophily Traders Association (PSTA) and co founder of the American Stock and Bond Collectors Association.
For more information on Scripophily.com®, visit http://www.scripophily.com, http://www.oldcompany.com, http://www.scripophily.net, http://www.bob.com or call 1-703-787-3552.