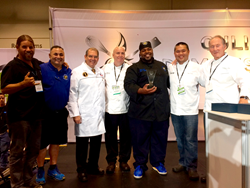 We wanted to create a dish that really showed what The Twisted Tuna was all about
Port Salerno, Florida (PRWEB) October 04, 2016
When Chef Tavoris entered The Twisted Tuna Poke Appetizer in the 2016 Rapid Fire Challenge he knew he had a winner. The dish was conceived with the help of Twisted Tuna's Food and Beverage Director Rick Julylia and included a secret weapon, Tupat's Hawaiian Poke Sauce! "We wanted to create a dish that really showed what The Twisted Tuna was all about" said Rick Julylia. "Using fresh sushi grade Ahi tuna along with local fruits and other ingredients made the dish good. Substituting traditional sushi rice for cellophane bean thread noodles and seaweed salad made it even better. But Tupat's Poke Sauce really gave the dish that authentic Hawaiian flavor we were looking for".
The submission video was posted to the FRLA's facebook page and almost immediately went viral gaining 560 votes, surpassing the second and third place competitors and easily securing a spot at the competition.
On Wednesday September 28th, the top three chefs with the most votes on their video submissions prepared their dishes in front of an audience of about 40 convention attendees and a panel of three judges; Ryan Vargas from Emeril's Tchoup Chop, Keith Keogh from Total Food Network and James McGuiness from Keiser University.
First up was Ernie Danjean from Dockside Cafe with his Louisiana Crawfish Grit Cake followed by Eric Parker from Duffy's Sports Grill with his Sesame Tuna Tostado and lastly Tavoris with his Ahi Tuna Poke. For winning the competition, sponsored by Edible Orlando, Chef Tavoris was awarded a trophy, $1000 in cash and unlimited bragging rights.