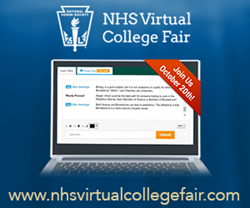 "Students are most comfortable communicating through text and video chat, so it's only natural that colleges offer the ability to connect with them through virtual events," Dr. Jonathan Mathis, director of the National Honor Societies
(PRWEB) October 04, 2016
In May 2016, CollegeWeekLive, a unique virtual engagement platform where students and colleges meet online, and the National Honor Society (NHS) collaborated on a successful pilot fair, connecting NHS students and higher education admissions professionals through video presentations and online chats. The pilot event saw strong results; more than 1,500 NHS students and 21 colleges and universities participated.
"[During the May event] We were very impressed with the quality of the questions asked by the NHS students," Jamie Hansard, associate director of undergraduate admissions at Texas Tech University said. "They were clearly engaged and interested. We found the event very worth our time."
Based on the high level of student engagement and depth of the conversations seen in the pilot fair, the need for an additional event was clear. The second National Honor Society Virtual College Fair is scheduled for 2PM–10PM EDT on October 20, 2016. The event will bring schools and prospective students together during the busy fall recruitment season. Throughout the National Honor Society Virtual College Fair, schools will be available to provide information and advice on everything from degree programs to dorm rooms.
"NHS students are being recruited by countless institutions across the country," Sumant Mauskar, president of CollegeWeekLive said. "We're pleased to give these students an opportunity to connect directly with schools of interest to them, in an online channel they prefer. This is a great way to spark conversations, helping colleges and students alike find the best match."
The National Honor Society Virtual College Fair is a free event for NHS students, and attendees can participate in the fair from desktop, laptop, and mobile devices.
"Students are most comfortable communicating through text and video chat, so it's only natural that colleges offer the ability to connect with them through virtual events," Dr. Jonathan Mathis, director of the National Honor Societies, including NHS, the National Junior Honor Society, and the National Elementary Honor Society said. "We're thrilled to offer these resources to NHS members so they can have meaningful conversations with admissions counselors as they make important college decisions."
For more information about exhibiting at the National Honor Society Virtual College Fair, please contact colleges(at)collegeweeklive(dot)com or 800-828-8222.