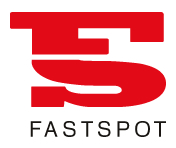 At Fastspot, all we care about is being a great partner to our clients and to one another.
BALTIMORE (PRWEB) October 04, 2016
Interactive design agency Fastspot ranks among the 5,000 fastest growing companies in the country, according to Inc. Magazine's 2016 list, garnering position 1,980.
The Inc. 5,000 list ranks privately-owned businesses based on the past three years' revenue growth. Fastspot took the #24 spot among Baltimore businesses and the #42 spot among Maryland businesses.
From 2012 to 2015, Fastspot experienced 188% growth, grew its team from 13 employees to 23, and expanded its client base to include organizations such as Yale University, Ford's Theatre, and the University of San Francisco. In 2013, the agency relocated to Mill No. 1, an historic cotton mill, which was rejuvenated for commercial and residential use. Fastspot's space was designed for the rapidly growing company by Alexander Design Studio.
"Fastspot is an award winning agency, recognized nationally for the successful strategies and solutions we provide for our clients," said Tracey Halvorsen, Fastspot's Chief Visionary Officer and President. "The trust our clients put in us and the immense, collaborative skills of our team generate outstanding results."
"At Fastspot, all we care about is being a great partner to our clients and to one another. We are driven by an enthusiastic and supportive workplace, where our creative culture encourages constant growth and innovation," Halvorsen continued. Fastspot specializes in large-scale web-based strategy, design and development for higher education, museums, cultural organizations and associations.
For more information about Fastspot, please visit Fastspot or follow us on Twitter at Fastspot, and on Facebook. 
Interactive digital agency Fastspot was founded in 2001. The company has helped build numerous brands, including the Walters Art Museum, Bucknell University, George Washington's Mount Vernon, Kenyon College and the Chicago Architecture Foundation. Fastspot provides communications and marketing strategies focused on interactive and digital spaces. We design and develop large-scale products, engaging brands with audiences. Fastspot's work is consistently present in prestigious award programs, such as the Webbys, the CASE Awards and the W3 Awards. Fastspot combines a high level of creativity with an unparalleled level of user experience focus, and a skill set within interactive technologies which delivers work that delights, nails business objectives and is sustainable.