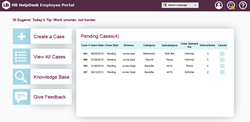 We are providing the best user experience possible on our LBi HR HelpDesk 6.0 update
Woodbury, NY (PRWEB) October 05, 2016
LBi Software today announced the release of LBi HR HelpDesk 6.0, a comprehensive HR workflow solution that creates a rich and powerful self-service knowledge base on the fly. This LBi HR HelpDesk update will provide users with a modernized and simplified interface for easier employee access, better security, report improvements, and more.
"Our LBi HR HelpDesk SaaS Pro, ProPlus, and Free offerings provided LBi Software with a broad base of feedback from our clients about user experience," said Richard Teed, LBi Software President and COO. "We listened to what they had to say. Now, we are providing the best user experience possible on our LBi HR HelpDesk 6.0 update, along with a host of other features that will produce better business results and tighter security for our clients."
LBi HR HelpDesk 6.0 enhancements include an improved user experience for the entire application; embedded Google Translate service with over 99 languages; a new home screen; instructional videos and guides; and the ability to search, organize, and reassign cases on a much more granular level.
"LBi Software prides itself on unbeatable, customer-focused technology made explicitly for HR, and we have continued to push ourselves by creating the finest edition of LBi HR HelpDesk yet," said Teed. "LBi HR HelpDesk 6.0 enables our users to empower employees, enhance HR processes, and keep their information secure with industry-leading technology."
"LBi HR HelpDesk 6.0 is another major step forward for LBi Software," said Howard Kaplan, LBi Software Director of Business Development. "The latest version of LBi HR HelpDesk will provide users with the power to manage their cases in any language they desire — prioritized in a much more visual way — and with the capability to search and organize cases based on an extensive set of user-defined preferences."
Improvements to LBi HR HelpDesk 6.0 include:
● Improved user experience and interface
● Enhanced application security
● Enhanced case search, organization, and reassignment capabilities
● Embedded Google Translate capabilities with over 99 languages
● Instructional videos and guides
● New graphics visualizing current caseload aging and overdue status
● Color-coded case priority icons (Normal, High, Urgent)
● Enhanced employee search
● Improved report user interface
● New reports added (Case Transfer Report, Escalated Cases Report)
● One-click export search results to CSV
● Improved hosting configuration
● Optional two factor authentication
● Streamlined application setup process
LBi HR HelpDesk 6.0 is available for upgrade today on all four of the application's editions: Free, Pro, ProPlus, and Enterprise.
About LBi Software
LBi Software provides precisely engineered, customer-focused human resources technology solutions developed from more than 30 years of experience in HR technology and HR processes. Our flagship solution, LBi HR HelpDesk, is an innovative case manager and call-tracking workflow solution that creates a rich and powerful knowledge base on the fly, with a unique tiered pricing structure that appeals to organizations of any size. Our organic belief in – and solid reputation for applying – a true client-vendor partnership on every project ensures a highly configurable solution for businesses with as few as 50 employees or more than 50,000, always designed to put the power in the hands of the employee. In addition, every LBi project is supported by our rich experience and expertise in Mobile Development, Business Intelligence, Data Warehousing, Reporting, and Analytics.